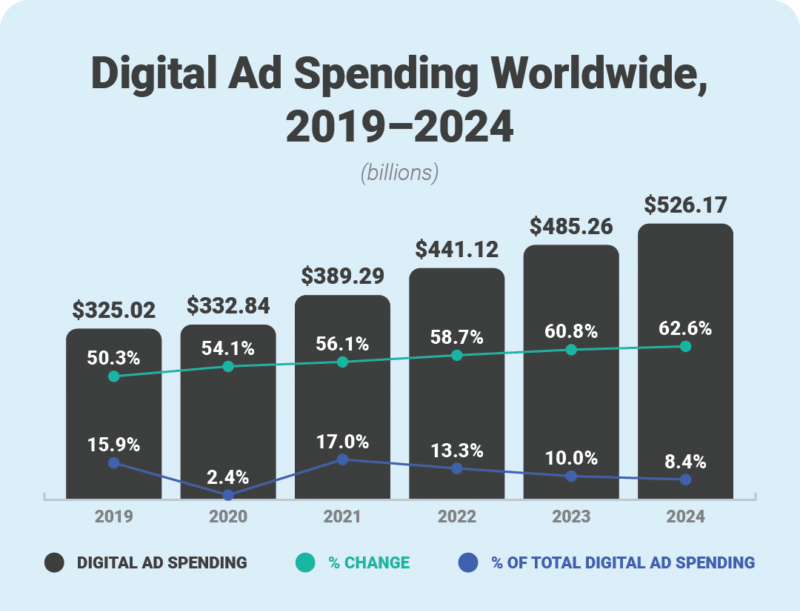 Things are slowly getting back to normal in 2021 and businesses are starting to pick up where they left off in early 2020. In fact, as individuals and organizations attempted to deal with a global shutdown, there also emerged an entire world of new services as people began spending their money in different ways. Similarly, companies started catering to these consumers, tailoring their products to suit a more indoor lifestyle. What was earlier FOMO, the Fear of Missing Out, had turned into FOGO, i.e the Fear of Going Out!
Reviewing Ad Spending In 2021
As this happened, companies needed to tailor their digital marketing strategy and ad spending plan to cater to this new, homebound audience and a new way of doing business. Make no mistake, the competition was intense. When a person is sitting at home, there are a million ways to get distracted, so how are you going to make your product stand out for them? Digital advertising saw a marked shift during the beginning of the pandemic, with some brands taking a more story-based approach toward problem-solving.
Global Decline In Spending During Pandemic
According to reports in 2020 by Magna, ad spending in the U.S. for linear media fell to $81 billion in 2020, a year-over-year decline of 16%. The agency had expected digital media to grow by around 10% in 2020, reaching $140 billion, as digital was often driven by eCommerce and advertisers seeking "lower funnel" attribution. Magna's prediction for 2021 isn't too drastic. It claims that led by search, digital media may grow by around 8%.
Mobile Ad Spends To Lead the Way
Since the beginning of 2020, there has been quite a clear shift to digital in terms of share of ad spends, compared to 2019. And in 2021, this trend will continue as the smaller screen becomes more popular.
According to Dentsu's report of the Global Ad Spends forecast for 2021, In APAC itself, the digital share of ad spending amounted to around 55.7% in 2020, which beat the global 48% average, and was the highest figure in terms of percentage, across regions globally. It's estimated that by the year 2020, mobile will overtake the desktop in terms of ad spends.
Though the pandemic is lightning up in many parts of the globe, many people continue to remain closer to home. Often that means more screen time. And the more people's lives revolve around the screen, the more marketers will need to come up with ingenious ways to bring their offerings to clients.
In 2020, Zenith estimated the global ad spend will total $587 billion, a year-over-year drop-off of 7.5%. The agency noted the ad marketplace had unexpectedly rebounded in the latter half of 2020 or the decline would have been greater. In 2021, Zenith forecasted the global ad marketplace, driven by the postponed Tokyo Olympics and UEFA Euro tournament, will grow by 5.6% to an estimated $620 billion. Nonetheless, global ad dollars in 2021 will be lower than in 2019 ($634 billion). Looking ahead to 2022, global ad spend is projected to grow by another 5.2% reaching $652 billion.
Digital Content To Become More Unique and Creative
There is no doubt that the pandemic has not only changed shopping habits but lifestyles as well, as an extension. For companies, adaptation is key. Creating interesting ads that target the right consumers is key if you want your product to stand out and not get lost in the 'pandemic specials' that every company seems to be parroting nowadays. For example, if you have a streaming service, why should people use your portal instead of Netflix?
Experts To Help Companies To Navigate The World Of Digital Media
Evolution needs to be a constant process. Before the pandemic, Uber and Lyft were constantly at loggerheads and expanding in multiple ways, trying to get consumers to choose one of them as a service provider. Leveraging social media is a proven way organization can reach more consumers if done right. If you run a small business, you need to get the word out about your offerings in the most efficient and cost-effective method possible. And attracting consumers is not enough. You need to retain them, so they form more than just a perfunctory functional bond with your product. They should fall in love with the brand, so they buy a subscription. Publir's subscription tool is a nifty way to capture details and get clients to sign up for your services.
Expect A Rebound
In 2021, digital ad spending in America alone will increase to around 25.5%, the fastest growth rate since 2018. The ad market and wider economy are continuing to recover from the pandemic. Though 2020 was relatively flat, total media ad spending could rebound at around 18.0%. That's not bad when you compare it to global figures. In February 2020, digital ad spending grew by around 12.7% only. Also, total ad spending declined by 1.2%, led chiefly by a 15.7% contraction in traditional ad spending.
Conclusion
It's expected that 2021 will be marginally better for companies than the year 2020 because not only do businesses have more than 12 months of experience running in a pandemic, the global shutdowns are coming to an end in many countries. As time goes on, this new way of doing business might become the new normal, and functioning under these circumstances may be the only choice we have. The emphasis will likely be more on automation and personalization and less on customized, in-person experiences. Companies are aiming to offer users even more personalized content, and to help in doing so, artificial intelligence too might chip in. So despite being around for quite some time now, digital still has fresh and continually evolving prospects. To read such interesting articles, visit Publir 's Blog now!