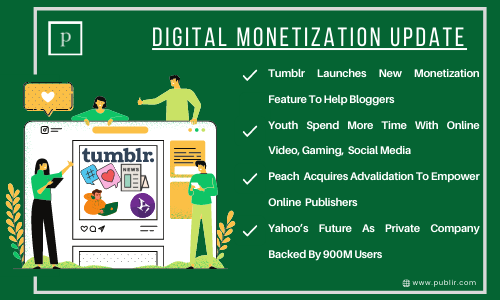 1. Tumblr Launches New Monetization Feature To Help Bloggers (TechCrunch)
Tumblr Tips is Tumblr's second effort at monetization, allowing bloggers to accept one-time payments from their fans. Tipping is available on the web, iOS, and Android; but Tumblr will not use Apple or Google's own billing systems to allow mobile tips, and creators will not be charged additional fees of 30%.
2. Youth Spend More Time With Online Video, Gaming, Social Media (MediaPost)
According to a new Hub Entertainment Research, young media consumers continue to spend more time with online video, gaming, and social media and less time with traditional screen-based TV shows and movies. Gaming (25%), online videos (19%), and social media (13%) account for nearly 60% of "screen-based leisure time" for 13- to 24-year-old viewers.
3. Peach Acquires Advalidation To Empower Online Publishers (AdTechDaily)
Advalidation, a SaaS platform focused on enhancing ad experience and compliance, has been acquired by Peach, a global leader in video advertising workflow and delivery. It is a strategic effort to give online publishers and media owners more control over their ad workflows.
4. Yahoo's Future As Private Company Backed By 900M Users (MediaPost)
Yahoo's content is available to more than 900 million global users monthly throughout Yahoo's network of companies, providing it with a unique perspective on first-party data through products like search, connected television (CTV), and email. Last year, Yahoo's demand-side platform (DSP) grew by 64% and supply-side platform grew by 40%.
5. Twitter Advancing The Conversation On Social Media (AdAge)
Twitter is reimagining public conversation to be more healthy, useful, and accessible to all. It is adding the feature of proactive prompts, which will make users think twice about the language they use or read the articles they are posting carefully before sharing them. It is also removing misinformation from Twitter using labeled tweets.
6. WarnerMedia, Discovery Get US Nod To Create New Media Giant (TheVerge)
According to a filing with the Securities and Exchange Commission, the merger of Discovery and WarnerMedia has cleared an antitrust assessment by US government agencies. Once finalized, the merged company will be one of the largest media conglomerates in the US, combining Warner Bros.' TV and film holdings with Discovery's vast library of TV programs.
7. Gaming Is Antitrust Regulator's Blind Spot (Axios)
Gaming has become one of the world's major media industries, but it has yet to endure the scrutiny that other tech sectors do over how its business methods harm competition, customers, or workers. The biggest video game firms are devouring the competition quicker than ever before, despite substantial opposition from antitrust regulators.
8. Meta's Stock Slide Highlights Tech Antitrust Bill Criteria (Bloomberg)
Meta's sliding stock price looked to provide it a silver lining, exempting it from the harsh antitrust sanctions under consideration in the US House of Representatives. On Tuesday, Meta was valued at $599 billion, following a stock price drop that began when the firm announced that its flagship app's daily active users had dropped for the first time.