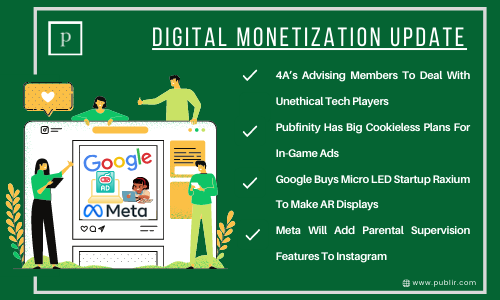 1. 4A's Advising Members To Deal With Unethical Tech Players (DigiDay)
The great majority of digital display advertising will be executed next year, accounting for 91% of revenue. That implies audits, as marketers want reassurance that a media dollar spent is a dollar invested in an industry where 'accountability' is a near-constant catchphrase from every given conference stage.
2. Pubfinity Has Big Cookieless Plans For In-Game Ads (AdExchanger)
Pubfinity Founder and CEO Sam Kaufmann identified an opportunity to support in-game advertising when Microsoft decided to cease its ad monetization SDK for games in its app store in 2020. He decided to create Pubfinity as an SSP for game creators like himself who were unable to monetize their non-cookie-based Windows programs.
3. Google Buys Micro LED Startup Raxium To Make AR Displays (TheInformation)
Google has agreed to buy Raxium, a five-year-old startup that creates small light-emitting diodes for screens used in augmented and mixed reality devices. Google intends to possess more of the physical components required to make such gadgets. It has spent more than a decade developing its own headgear, with limited success.
4. Meta Will Add Parental Supervision Features To Instagram (AdAge)
Meta has announced additional parental monitoring options on Instagram. The new tools are part of a larger effort to safeguard teens. This pledge came after a whistleblower testified in October that Facebook has placed business over the well-being of its users, particularly teenagers.
5. Google Analytics To Stop Logging IP Addresses (AdExchanger)
Google Analytics will undergo significant adjustments. All analytics users will migrate to Google Analytics 4 (GA4), which supports both online and app data collecting and has built-in privacy safeguards, as well as a slew of Google-wide connections, including metrics and capabilities connected to YouTube, Search, and the Google Cloud Platform.
6. Russia Bans Instagram, Taking 80M Users Offline (TheVerge)
Russia's promised ban on Instagram is now into effect, making it unavailable to a majority of the country's population. The government had announced plans to ban Instagram, in reaction to Meta's decision to allow Facebook and Instagram users in various countries to call for violence against Russian soldiers during the nation's invasion of Ukraine.
7. War Makes Social Media An Ethical Minefield (Axios)
Russia's invasion of Ukraine is posing new challenges for social media policymakers, not just in terms of limiting the spread of misinformation, but also in dealing with vivid pictures of bloodshed. War heightens the human need to share powerful photos, but it also leaves users with difficult choices and hazards in the social media desert.
8. Amazon Wins EU Approval For Its $8.45B MGM Deal (Engadget)
Amazon won unconditional approval from the European Union for its plan to buy the Metro-Goldwyn-Mayer movie company for $8.45 billion. The EU Commission's antitrust regulators decided that the firms had low overlap and that the combination would not significantly diminish competition in the theatrical picture and audio-visual content markets.