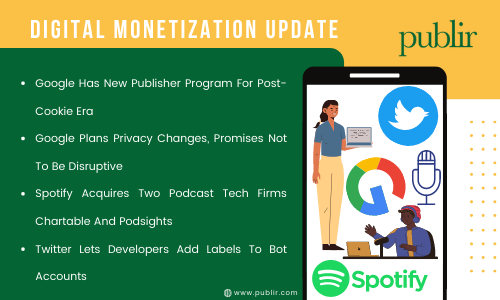 1. Google Has New Publisher Program For Post-Cookie Era (AdAge)
In the post-cookie era, Google is launching Encrypted Signals for Publishers that allows websites to interact with online advertising identifiers in Google's ad platform. Encrypted IDs, according to ad tech experts, might be a lifeline for publishers in programmatic advertising, which is how sites serve ads to users who do identify themselves.
2. Google Plans Privacy Changes, Promises Not To Be Disruptive (TheHill)
To protect user privacy, Google has announced that it would begin deleting ad trackers from its Android operating system. The suggested changes include ultimately eliminating advertising ID, a unique identifier provided to each Android device that allows marketers to create customized profiles and offer targeted adverts.
3. Spotify Acquires Two Podcast Tech Firms Chartable And Podsights (TheVerge)
Spotify has announced the acquisition of Chartable and Podsights, two of the most well-known podcast marketing and ad attribution firms. Podcasters and networks may utilize Podsights and Chartable to insert tags in their broadcasts that monitor who listened, if they heard an ad, and whether they took action after hearing it.
4. Twitter Lets Developers Add Labels To Bot Accounts (TechCrunch)
Twitter announced a new label that would allow the service's "good bots" to identify themselves. While the term "bot" has a bad connotation, Twitter observed that there were good bots that automatically sent out vital information. These "good bot" labels are now available to all automated account owners.
5. Discovery+ Ad-Lite Option To Launch In The UK And Ireland (CampaignUK)
Following the introduction of the service in the United States, Discovery UK has announced an "Ad-lite" option for users in the United Kingdom and Ireland on its Discovery+ platform. The company claims to be the first subscription video-on-demand service in the UK, offering a lower membership rate in exchange for "limited" ad exposure.
6. India's Biggest Short Video Platform: MX TakaTak Merge With Moj (Variety)
MX TakaTak of Times Internet and Moj of ShareChat are merging to create India's largest short-form video platform, in a country where TikTok remains banned. MX TakaTak-united Moj's platform will have 100 million creators, over 300 million monthly active users, and nearly 250 billion monthly video views. The deal is worth $900 million in cash and stock.
7. Russia To Impose Advertising Ban On Foreign Tech Firms (Reuters)
Russia warned it would begin enforcing advertising bans on huge international tech firms that do not have formal representation in the country by March, as Moscow seeks tighter control over the internet. Since July 2021, international social media firms with more than 500,000 daily users have been required by Russian law to open offices in Russia.
8. Canada Uses Emergency Act To Rein In 'Freedom Convoy' Crowdfunds (Engadget)
After weeks of occupation paralyzing the nation's capital, Prime Minister Justin Trudeau invoked Canada's Emergencies Act in response to the "Freedom Convoy" rallies. Trudeau said he will utilize the Act to quell the protests in many ways, including expanding Canada's money-laundering rules to cover crowdfunding sites and bitcoin transactions.