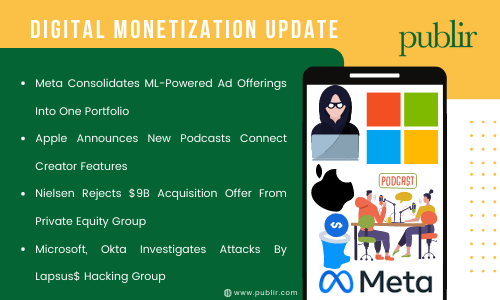 1. Meta Consolidates ML-Powered Ad Offerings Into One Portfolio (AdExchanger)
Meta is consolidating all of its automated ad offerings under one roof. Meta refers to its new suite as Meta Advantage, which is actually a home for Meta's existing automated tools, such as lookalike expansion, automated app advertisements, and automatic placements, as well as a potential home for more automated goods in development.
2. Apple Announces New Podcasts Connect Creator Features (TechCrunch)
Apple Podcasts is introducing new features to encourage podcasters to charge listeners for premium subscriptions. Uploading MP3 files as subscriber-only audio and personalized subscription banners are among the features. One of those features will show podcasters how many people follow them on Apple Podcasts in their own analytics dashboard.
3. Nielsen Rejects $9B Acquisition Offer From Private Equity Group (AdAge)
Nielsen rejected a private equity consortium's takeover deal, stating that it "significantly" undervalued the firm. The plan valued the firm at $25.40 per share, which the company said does not "adequately compensate shareholders for Nielsen's growth prospects." Windacre Partnership, company's major shareholder, backed the offer's rejection.
4. Microsoft, Okta Investigates Attacks By Lapsus$ Hacking Group (Engadget)
Microsoft and Okta, an identity authentication firm, are both looking into potential attacks carried out by the South American hacking organization Lapsus$. The group claims to have stolen source code from a server for Bing, Cortana, and internal Microsoft projects. Lapsus$ uploaded a torrent containing 37GB of source code for around 250 projects.
5. Everyone Wants Less To Mean More Now In Ad Tech (DigiDay)
When it comes to programmatic advertising, the ad business aims to make a little go a long way. GroupM and The Trade Desk are at the front of this shift. Both have recently revived efforts to assist marketers in purchasing more premium ad space. Pubmatic is following in the footsteps of Omnicom, Havas, Unilever, Diageo, and Nestle, to mention a few.
6. NBCU Sets New Ad Tech Partners (Axios)
NBCU has been one of the more outspoken legacy media firms in its efforts to modify how television viewership is measured and how advertising is purchased and sold against it. On Tuesday, NBCUniversal announced an extended partnership with iSpot.tv as well as a slew of new ad tech measurement partners.
7. Get More Customer Engagement With Google's Business Messages (AdWeek)
It is time to talk to the search giant about one's local marketing strategy. Customer loyalty must be nurtured, retained, and earned via exceptional customer service. There is also a significant victory for marketers. Customers that are loyal to a firm generate greater money. Offering excellent customer service is one approach to earn client loyalty.
8. Xandr Partners With LiveIntent For New Data & Identity Offerings (RapidTV)
LiveIntent and Xandr are bringing new data and identity services to market by expanding their partnership from server-side platform (SSP) partners to cooperation across data and identity. The partnership will allow both to help brands reach premium audiences throughout the open web, and drive growth through a new email-identity-based channel.