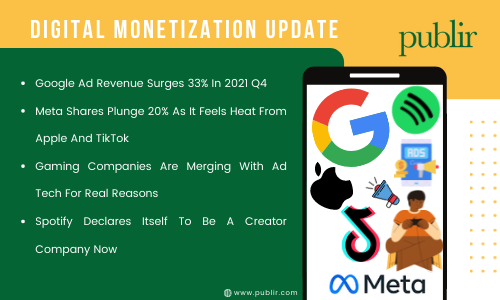 1. Google Ad Revenue Surges 33% In 2021 Q4 (MediaPost)
In the fourth quarter of 2021, Google's overall ad revenue increased by 33% to $61.2 billion, above analysts' expectations by 4%. Search advertising increased by 35% to $43 billion, and Google's YouTube increased by 25% to $8.6 billion. YouTube's ad dollar increases in the quarter eclipsed Netflix's $7.7 billion in subscription revenue.
2. Meta Shares Plunge 20% As It Feels Heat From Apple And TikTok (AdAge)
Apple's recent privacy reforms and competition from firms like TikTok, might start to wear on Meta's ad platform. Meta's ad revenue in the first quarter of this year will be between $27 billion and $29 billion, representing a 3% to 11% growth year over year. In after-hours trading, Meta shares fell more than 20% due to the bleak forecast.
3. Gaming Companies Are Merging With Ad Tech For Real Reasons (AdExchanger)
In the year 2021, there was tremendous consolidation in the ad tech industry. The combination of gaming companies with ad tech platforms is one especially noticeable little trend that is gaining traction. The objective behind the change is to replace old cookie-based technology with first-party data, which is the future of advertising.
4. Spotify Declares Itself To Be A Creator Company Now (TheVerge)
Spotify announced its quarterly numbers at a particularly difficult period for the firm. Its monthly active users increased by 18% year on year to 406 million, while paid customers increased to 180 million. Spotify CEO Daniel Ek aspires to achieve 50 million creators who will profit from the platform.
5. Regulators Find Europe's Ad Tech Industry Acted Unlawfully (Engadget)
Data protection experts from throughout the European Union have determined that Europe's ad tech business has been functioning unlawfully for years. The judgment, issued by Belgium's APD (.PDF) and backed by authorities throughout the EU, determined that the industry's underpinning system breached a number of GDPR standards.
6. NortonLifeLock Launches Feature To Protect Social Media Accounts (MediaPost)
Norton LifeLock, a software and cybersecurity firm, announced a new feature to help users better safeguard their social media accounts against harmful attacks. In 2021, the number of people on social media has risen to 4.48 billion, accounting for more than half of the world's population (56.8%). As the user increases, so will the number of threats.
7. Big Tech Boycotts Tend To Be Short-Lived (Axios)
Boycotts of tech services have become increasingly common as political division and dissatisfaction with misinformation have grown. However, evidence shows that boycotts and the media attention they generate are usually short-lived. Even the most virulent boycotts have little influence beyond a single news cycle on Big Tech giants.