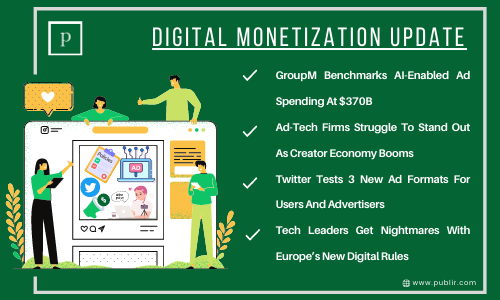 1. GroupM Benchmarks AI-Enabled Ad Spending At $370B (MediaPost)
According to a new proprietary projection provided by GroupM, artificial intelligence (AI)-enabled media will account for $370 billion in ad spending this year, representing the majority of all ad sales. By 2032, AI-enabled media ad spending is expected to exceed $1.3 trillion, accounting for more than 90% of all ad spending.
2. Ad-Tech Firms Struggle To Stand Out As Creator Economy Booms (AdWeek)
As the creative economy grows, more firms are searching for creators to help them promote their products. In fact, the percentage of marketers adopting influencer marketing is expected to climb to 72.5% in 2022, up from 55.4% in 2019. However, not all creator marketing platforms are the same.
3. Twitter Tests 3 New Ad Formats For Users And Advertisers (MediaPost)
Twitter is testing three new ad types to simplify and improve the efficacy of its advertising suite. Twitter expects that the new formats will provide advertisers more creative and inventive alternatives while giving consumers a more engaging experience. Pilot testing has started for Interactive Text, Product Explorer, and Collection Ads.
4. Tech Leaders Get Nightmares With Europe's New Digital Rules (Axios)
Tech CEOs fear that Europe's new competition laws for Big Tech firms would make their services less secure and splintered. Last month, European authorities reached a near-final agreement on the Digital Markets Act, compelling Google, Apple, Meta, and Amazon to reorganize their operations after being labeled "gatekeepers."
5. Bloomberg Looks To Subscription Revenue For Stability Not Ads (AdExchanger)
Since instituting a paywall three and a half years ago, Bloomberg's subscription base has grown to almost 370,000, with nearly 100,000 signing up in 2021 alone. That was enough to increase the publisher's subscription income by 58% in 2021 over 2020. Bloomberg's subscription revenue is currently in the nine figures.
6. MailChimp Was Breached And Hundreds Of Accounts Accessed (TechCrunch)
Mailchimp, the world's largest email marketing provider, has revealed a data breach after rogue hackers accessed an internal corporate tool to obtain access to client accounts. According to the organization, hackers visited around 300 Mailchimp accounts and successfully extracted audience data from 102 of them.
7. iHeartMedia Building New NFT Network For Podcasts (Axios)
According to officials, iHeartMedia, the parent company of iHeartRadio, is investing several hundred thousand dollars in acquiring the rights to about a dozen NFTs in order to launch a new NFT-based podcast network. It is one of the first big media brands to launch a podcast slate of characters and voices from various NFT collections.
8. Dropbox Shop Launches In Open Beta To Sell Digital Content (TechCrunch)
Dropbox Shop is now in open beta, bringing fresh upgrades to the platform as well as tipping possibilities. You may now personalize your shop and URLs, as well as integrate HTML codes. Last year, Dropbox Shop went into private testing, allowing users to create product listings for digital content.