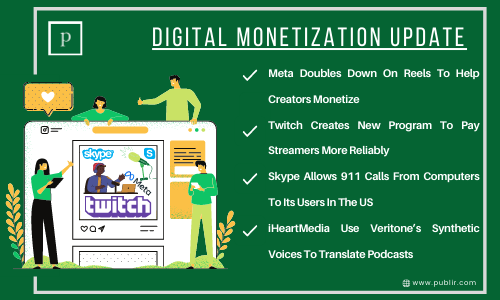 1. Meta Doubles Down On Reels To Help Creators Monetize (AdAge)
Meta's Reels is getting a boost. Creators may now earn up to 55% of ad income from banner ads – a semi-transparent overlay at the bottom of a reel, and sticker ads – static images placed anywhere in the video. The rest of the money will go to Meta, which is similar to Facebook's in-stream ad program in terms of revenue split.
2. Twitch Creates New Program To Pay Streamers More Reliably (TheVerge)
Twitch is launching a new program called the Ad Incentive Program, which will give streamers a guaranteed minimum amount of ad income each month. Twitch will notify qualified affiliate or partner broadcasters of varied compensation based on the number of advertisements aired per hour and total hours streamed.
3. Skype Allows 911 Calls From Computers To Its Users In The US (TheVerge)
Skype customers in the US can now make 911 calls from their home computers, and the company's software can also reveal their location with emergency personnel if necessary. The United States is the newest country to receive Skype emergency service calling; earlier it was only accessible in Australia, Denmark, Finland, and the United Kingdom.
4. iHeartMedia Use Veritone's Synthetic Voices To Translate Podcasts (Variety)
iHeartMedia will use Veritone's synthetic-voice technology to translate and produce podcasts in other languages to expand its podcast business beyond English-speaking listeners. Initially, iHeart hopes to employ Veritone's artificial-intelligence technology to translate the iHeartPodcast Network's most popular podcasts into Spanish.
5. Google Lets Cloud Users Identify Idle Workloads To Reduce Emissions (Axios)
Google will provide new tools to assist its Cloud users conserve energy and cut emissions by allowing them to regulate energy usage from idle projects. The Carbon Sense suite was introduced by Google. It is a set of tools aimed at assisting businesses in quantifying, reporting, and reducing their emissions.
6. Netflix Will Invest $45M In French And European Movies (TheWrap)
Netflix will invest €40 million ($45 million) each year on French and European films over a three-year period with France's film guilds. The deal is a first between a global streamer and the French film industry. Approximately 4% of Netflix's yearly income in France will now go toward supporting films created in France and Europe.
7. Meta To Build An AI-Powered Universal Speech Translator (Engadget)
Mark Zuckerberg disclosed that Meta's research division is working on a universal speech translation system that might improve users' interactions with AI within the company's digital universe. He said Facebook has worked hard to build technology that allows more people to use the internet and these efforts will extend to the Metaverse.
8. LinkedIn Announces Launch Of Its Own Podcast Network (TechCrunch)
LinkedIn is expanding its podcasting efforts by launching a podcast network that will include in-house shows from the LinkedIn News team and programs from industry experts. The shows are aimed towards a professional audience. LinkedIn's other offerings, like newsletters, live events, videos, and articles, are all linked to the podcast network.