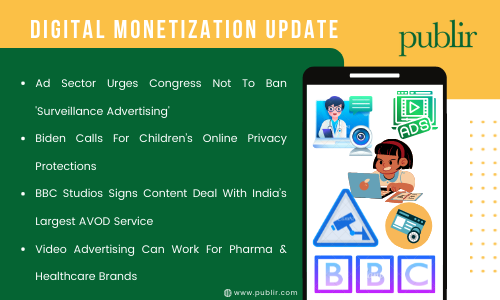 1. Ad Sector Urges Congress Not To Ban 'Surveillance Advertising' (MediaPost)
The Interactive Advertising Bureau and other ad industry groups are asking Congress to oppose a bill that would ban most kinds of online behavioral targeting. The letter came on the same day the House members convened a hearing on a suite of bills aimed at tech companies, including the "Banning Surveillance Advertising Act," proposed earlier this year.
2. Biden Calls For Children's Online Privacy Protections (WSJ)
In an effort to address what the White House calls a national mental health crisis, President Biden pressed Congress to pass new internet privacy safeguards for minors. According to a White House fact sheet, the president urges Congress to ban excessive data collecting on children and young people and targeted advertising intended against them.
3. BBC Studios Signs Content Deal With India's Largest AVOD Service (Variety)
BBC Studios, the BBC's commercial arm, has signed a content contract with MX Player, India's largest AVOD provider with a strong presence in Sri Lanka, Bangladesh, Nepal, Bhutan, Maldives, and Pakistan. MX Player has 300 million monthly active users worldwide and has surpassed the one billion download mark.
4. Video Advertising Can Work For Pharma & Healthcare Brands (AdExchanger)
The digital revolution of the pharma industry has boosted media spending on video. Vertical and video spending in the healthcare and pharma industries are predicted to rise by 11% and 19% year on year, respectively. Due to altering media consumption patterns, media buyers are testing various combinations to maintain exposure and engage key audiences.
5. Netflix Acquires Next Games To Build 'World Class Games' (TheVerge)
Netflix has made a bid to purchase Next Games, the Finnish studio behind the mobile puzzle RPG Stranger Things: Puzzle Tales. The acquisition comes at a time when Netflix is integrating a mobile gaming service into its core subscription service. Netflix Games was released last year on iOS and Android, and it comprises a handful of mobile games.
6. iSpot Acquires Tunity, Analyzes Habits Of Out Of Home Audience (Variety)
iSpot, the measurement company that figures prominently in NBCUniversal and WarnerMedia's plans to offer alternatives to Nielsen in the sector's looming "upfront" marketplace, may acquire Tunity, an analytics company that analyzes consumer viewing habits in public locations across the country, including restaurants, offices, bars, and hotels.
7. Facebook Shuts Down Its College Student-Only Social Network (Engadget)
On March 10th, Meta will shut down Facebook's Campus trial project. Facebook claimed in a message that college groups were the "best way" to support students. After the deadline, it will remove Campus profiles, posts, and other material. One may download the data before then, and Facebook will propose comparable school groups to assist the transfer.
8. CNN To Launch Its Streaming Service CNN+ This Spring (Reuters)
CNN said that it will launch CNN+, a news and entertainment streaming service, in the spring at a subsidized membership price of $2.99 per month. CNN will give the special pricing to customers who join up during the first four weeks, taking on known rivals in the highly competitive market of streaming programming.