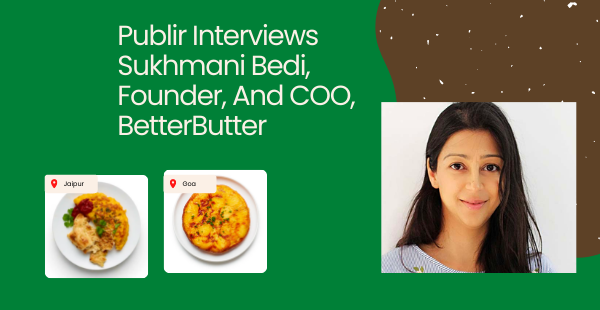 Sukhmani Bedi, Founder, and COO of a community-driven cooking platform, BetterButter talks to Publir about the growth of the platform, future plans, and funding plans.
What has been the growth rate of the company?
BetterButter is one of the largest platforms for user-generated content in India. With over 50,000 recipes and videos clocking more than 15 million views per month, the company is seeing an incredible level of engagement from its users.
BetterButter which was launched in 2015 has recently launched user-generated videos enabling homemakers to create studio-quality videos from the comfort of their homes. In just 5 months since launching the feature, BetterButter already added 3000 videos to its app. Videos have been added by homemakers in Hindi and English.
What are the total user base and future plans of the company?
BetterButter has over a million monthly active users across platforms and the goal is to triple this number by the end of 2022. The app and web are currently available in English, Hindi, and Tamil with Marathi and Gujarati launching shortly.
What are the fundraising plans and utilize them to the growth of the company?
The company is currently engaged in the process of closing a series of rounds of funding. The investment will be routed into two initiatives – improving our technical capabilities by re-launching our platform with a new UI and also by investing in our video technology to expand our language base. We are also in the process of undertaking other exciting initiatives for our users such as a voice recognition system through which users can speak out the recipes instead of typing them.
BetterButter is also creating an influencer network called Befluence. The objective is to connect influencers to brands. While our focus will be on food and recipe bloggers, we will also have influencers in other categories such as health and fitness.
What led to the birth of BetterButter?
While being a product marketing manager in the Kitchen Appliances category at Philips, I was fortunate to travel the length and breadth of India and interact with women in their kitchens. This helped me discover the deep passion that Indian women have about cooking, as they perceive it not as a chore but as an activity that brings them tremendous joy and satisfaction. However, there was a lack of an Indian cooking platform. A major gap that my partner and I found was that none of the current platforms solved the two most important problems people faced while cooking- deciding which dish to cook (discovery) and once that decision has been made, deciding which recipe to choose (this depends on the availability of ingredients, cooking method as well how the recipe was rated by fellow cooks). The BetterButter platform is trying to solve these two problems at its core.
What initiatives help users to engage with the platform?
Our platform has been built on the premise of creating a resource that users find informative and engaging while they consume content generated by their peers. With there being such a wealth of resources in Indian households in terms of recipes and dishes, we wanted to make them accessible for everyone. Part of that was enabling this information to emerge in the most engagement and consumption-friendly format. Therefore, we built the only tech platform in the world which allows users to make studio-quality videos in Hindi and English from the comfort of their homes.
The BetterButter app allows users to take short video clips while going about their normal cooking, which is then stitched together by us to create a high-quality video. The company has also built a community of users that shares information and clears doubts related to cooking. Users can ask questions or start cooking discussions, and fellow members of the community can answer their questions in real-time. Further, users can save content offline to consume it at their own convenience and in their kitchens while cooking, with a view to improving the user experience. We have also worked hard to make the platform accessible for new cooks and learners. Recipes can be viewed in an 'easy mode' which allows them to see each recipe step, and have it explained via video.
Publir helps Publishers like BetterButter amplify their revenue, would you be keen to explore a collaboration?
We would definitely like to explore this opportunity after we launch our new platform in July-August 2022. With our new UI, we are sure Publir could help us strategically plan our AdStack and help us explore new revenue streams.
It was great connecting with Ms. Bedi, and Publir wishes her and BetterButter all the very best!
If you like reading such intriguing interviews, check out our blog here! We have connected with some of the most popular industry experts across domains in the recent past.
Read More
Interview with Founder/Editor ShoutMeLoud – Harsh Agrawal
Interview with Vijayendra Thapliyal – Co-Founder, TourMyIndia