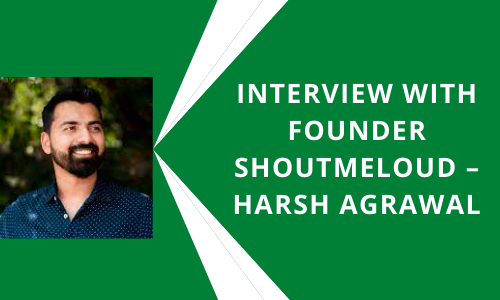 In today's interview, we have Harsh Agrawal, a Professional Blogger and Entrepreneur, and the founder of ShoutMeLoud.com. On ShoutMeLoud.com, Harsh covers topics related to blogging, SEO, making money, web hosting, affiliate marketing, and social media marketing. Read on to know more about him!
Q1. Who is Harsh Agrawal in real life?
I'm a happy-go-lucky person. A family person who loves the idea of a good time with family and friends. Travelling is what excites me after blogging as it gives a lot of new exposure and time to reflect on my actions. My strongest value is not to hurt anyone and help others while I could.
Q2. When & How did ShoutMeLoud happen?
It was the morning of 1st December 2008 when ShoutMeLoud was born. I started blogging by knowing just one fact I could write and share everything I know with the world. It felt amazing to be able to connect with like-minded people via the blog. After a few months of blogging, left my 9-6 job and became a full-time blogger. Never thought a not-so-well-known thing called blogging could help me discover myself this much. In the past few years have faced some of my biggest fear of speaking in front of an international crowd, representing India for a summit in Pakistan, and speaking at numerous universities like the Lovely professional university, Charusat University, Sharda University, Manipal University to name a few. Can't thank the time when I took the leap of faith and left the race to nowhere to become my own boss.
Q3. Did you face any obstacles during your journey with ShoutMeLoud?
Challenging yourself to discover a new you every day and walking in the unknown territory was terrifying as well as exciting at the same time. The only obstacle I faced in these 9 years of the journey is myself. Once I learned how to live with myself without conquering myself or others, all obstacles became a part of the pathway.
Q4. What are your future plans for ShoutMeLoud?
Keep growing the blog with the same or better content to help more individuals around the globe to become their own bosses.
Q5. Any tips for entrepreneurs/bloggers/publishers in the making?
Consistency is the key and planning is your biggest weapon. Keep a 30 minute time every day for yourself. Use that time to reflect on everything that you have been doing and make a decision on the questions which you have been carrying for a while. This 30 minute reflection time could be a game-changer for your growth.
Q6. Publir helps bloggers/publishers such as yourself diversify their revenue streams? Do you see your company using a service like Publir in the future?
I would definitely want to explore monetization tools from Publir in the near future and see how best my website could benefit from this collaboration.
Head to our blog to read more such candid conversations!