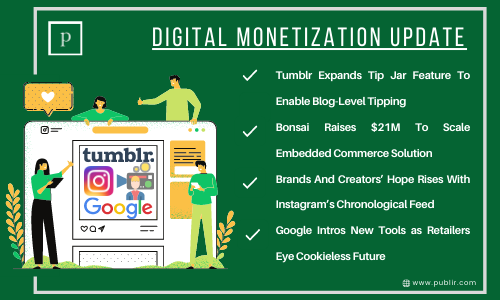 1. Tumblr Expands Tip Jar Feature To Enable Blog-Level Tipping (TechCrunch)
Tumblr is adding blog-level tipping to its tip jar feature in its iOS and web apps. The firm launched its tip jar function, which allows users to put tips on postings. Users will be able to leave tips on blogs as part of this extension. The extension will help creators by allowing tipping at the blog level without attaching the tip to a single post.
2. Bonsai Raises $21M To Scale Embedded Commerce Solution (MediaPost)
Bonsai, the Toronto-based ecommerce platform used by BuzzFeed, Vox Media, Refinery 29, and others, announced a $21 million Series A round headed by Framework Venture Partners, also located in Toronto. The financial proceeds will be used to strengthen existing product capabilities and explore new verticals.
3. Brands And Creators' Hope Rises With Instagram's Chronological Feed (AdAge)
Instagram's new chronological feed is giving the Meta-owned app's creators and brands fresh hope. And the chronological feed, which allows users to view all posts from accounts they follow rather than just those chosen by an algorithm, might lead to more real-time promotion on Instagram during key events like the Oscars.
4. Google Intros New Tools As Retailers Eye Cookieless Future (AdExchanger)
On Monday, Google introduced a new suite of shopper marketing tools. Google also revealed that Smart Shopping campaigns, which are linked to a merchant's inventory catalog, will be incorporated into its new Performance Max offering by the end of the year. A slew of new features is aimed at increasing Google's shopper conversion rate.
5. Ad Industry's Attempt To Rewrite The Identity Narrative (DigiDay)
The future of ad tech remains a scrappy work in progress until there is a clearer date on the demise of granular tracking. The industry is speeding toward a time when marketers will have to rely on methods to do what third-party cookies could not. More advertisers are now enlisting the help of agencies to negotiate third-party data transactions.
6. Apple Now Allows 'Reader' Apps To Add Link To Their Own Sites (Variety)
Digital media providers with "reader" apps in Apple's App Store, such as Netflix and Spotify, will now be able to include links in their iOS apps to let customers sign up for and manage accounts on the firms' own websites. Apple has revised its App Store standards to allow makers of reader apps to seek access to the "External Link Account Entitlement."
7. Facebook Small Advertisers Win Class-Action Status In Fraud Suit (AdAge)
A judge widened the pool of plaintiffs in a case accusing Facebook of overstating its ad viewership to include more than 2 million small ad buyers. A San Francisco federal court ruled that the complaint can proceed as a class action on behalf of small company owners and people who bought ads on Facebook or Instagram since August 15, 2014.
8. InMobi Launches Meson Reshaping Mobile Mediation Market (AdTechDaily)
InMobi, a major provider of content, monetization, and marketing solutions launched Meson, an independent SaaS mediation platform designed to allow publishers white label it as an in-house solution. Publishers will now completely own and manage their data, control every part of their monetization, user experience, and user acquisition links.