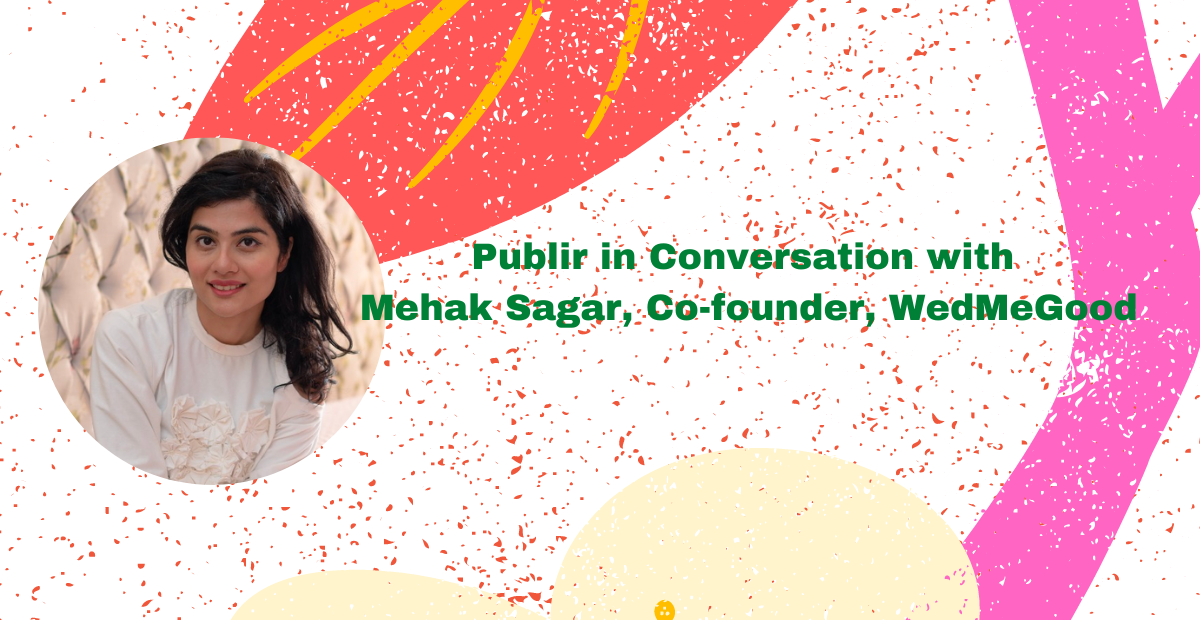 The wedding industry in India is a multi-million dollar industry. The wedding industry has remained unorganized for a long time now. However, the emergence of organized players and startups has changed the scenario of the industry.
Mehak Sagar Shahani, co-founder, WedMeGood, said, "The estimates peg this market to be worth $40 billion, however, the online share is currently fairly small. It's also an industry that is relatively old school when it comes to tech adoption. But, we're seeing a huge change in the industry in just the 4 years that we have been around, right from trusting online platforms more, to app usage. The industry is extremely disorganized, which makes it ripe for tech disruption."
WedMeGood is India's most popular wedding planning app. WedMeGood is the brainchild of couple-preneur, Anand and Mehak. After facing tons of issues in planning their own wedding, WedMeGood was born to give engaged couples a seamless experience to plan their wedding right from the stage to the union stage. Couples can browse over 1.7 million photos, find relevant wedding vendors, and stay on track with a checklist.
In conversation with Publir, Mehak Sagar Shahani, co-founder, WedMeGood, shares her valuable inputs on the nitty-gritty of the Indian Wedding Industry.
USP is the Key
Having a unique selling proposition is beneficial as well as essential for any business. In the wedding industry, businesses should leverage their USPs to attract more customers.
"Our USP is that our platform is built on user-generated content. Every single of 1.7 million photos you see has been uploaded by real brides or wedding professionals. We rely heavily on user reviews of wedding vendors so that future brides can make informed planning decisions," said Mehak.


Emerging Trends
The wedding industry is ever-evolving. It is necessary to keep a note of what's new in the industry to effectively use them for your benefit.
"Intimate weddings are a definite trend. People are cutting down on guest lists and preferring small weddings that focus more on experiences, rather than big, 500 people gatherings. Residential weddings are a trend too, where both the families stay in the same city but move into a resort in the same city for all their celebrations. Apart from this, there are tons of trends specific to each category," stated Mehak.
Art of Collaboration
The wedding business is all about partnerships. "We don't make money unless the vendors we partner with make money so it's a deep-rooted relationship. There is a lot to learn about the industry from wedding vendors, and there are a lot of opportunities for them to grow their business with new-age platforms like us," commented Mehak.
Managing Revenue Streams
Mehak says, "it is very important to be able to make money while you do what you love. When we started and had decent traffic on our website, we relied on Google Adsense and a few more media networks. Now, we have explored more revenue streams, and are quite happy with the performance without having to showcase bothersome Ads to our readers. However, we are always looking out for opportunities and would be excited to hear newer strategies."
Importance of Social Media
In today's digital era, social media is important for almost every industry but more so for the wedding industry since it is such a visual medium.
"The important thing, however, is to know what your social media aims to do: have a clear, tangible aim that you can measure. This could be sales, it could be app downloads, it could be engagement but having a clear goal helps," asserted, Mehak.
To read more such intriguing interviews, check out Publir's Blog!