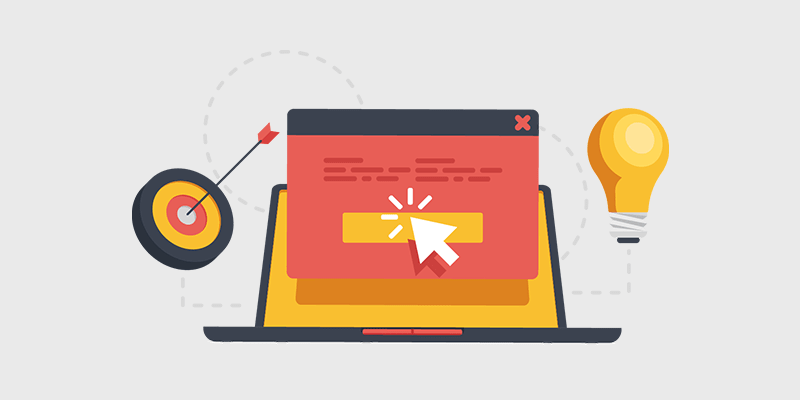 From a user's viewpoint, pop-up ads can be very annoying. But, from a marketing viewpoint, they are indispensable. As online visitors, we're bound to run into pop-ups, as they are as much a part of marketing strategies, like social media ads, email ads, and more. A decade or so earlier, when eCommerce businesses were starting off, websites relied a lot on pop-ups to gain users' attention to market their products. Visitors would be targeted relentlessly with irrelevant ads, and sometimes even misleading clickbait, as eCommerce businesses just about ruined the online experience for shoppers.
This changed something in the industry. From being annoying intrusions, recent pop-up ads are non-disruptive, and take user experience into account. Public opinions about pop-ups are changing, which is good news for businesses. Earlier, pop-ups were considered controversial and used to increase bounce rates. However, today they're instrumental in lead generation. Companies today are seeing as high as a 40% drop in bounce rates, with conversion rates of 10% to 50%, if pop-ups are used correctly.
What Are Pop-Up Ads?
Pop-ups are small windows that display either some offer, discount, or sale that pops up while a user browses a website. Each website visitor has their own experiences with a pop-up ad. It is a simple and age-old marketing technique used by businesses for grabbing eyeballs. A marketing message can be broadcast using a pop-up. Similarly, it can be used to promote offers, share information, and more.
Why Are Pop-Up Ads Important?
Pop-ups, though old, are an effective way of advertising products and services and attracting web traffic. Here's why they are important.
Increase Brand Awareness – Maximum visibility is always the most important aspect for websites, and pop-ups grab the attention of visitors, making them the perfect way of reaching out to a targeted audience.
Instant Customer Feedback – Pop-up ads are great to get an immediate reaction from customers. Visitors can leave feedback regarding user experience, product quality, or customer service. You can get to know your customers better and improve your products/services to give them a better experience.
Increased Conversions – Since the ultimate goal of businesses is sales, pop-ups can help you achieve your marketing and sales goals if placed in the right palace at the right time. If the copy and CTA are good, businesses can boost conversion rates.
Versatility – You can present any message to website visitors. Videos, creative graphics, and more, according to your wish. Make announcements, guide visitors to promotions, and do a lot more. Pop-ups have many benefits, and businesses can utilize them to their advantage.
What Are The Best Practices of Creating Pop-Up Ads?
While creating these ads is really easy, if you want to generate quality leads, market products, and boost conversions, you need a perfect website pop-up strategy. Here are some best practices to follow while setting up pop-up ad campaigns.
Timing Matters
Give site visitors enough time to engage with the website before displaying pop-ups. The best time to re-engage visitors with one is when they show exit intent. You could set triggers to display pop-ups when visitors have been around for 30 seconds, for example, recommending some best-selling products to them if they've been on your website for some time without navigating.
Prominent CTA
CTA buttons are the most important elements that determine whether visitors may engage and convert. These words prompt the visitor to the next action. Some common CTAs found on eCommerce stores are 'sign up now' or 'order today', etc. If your CTA is not visible, visitors won't complete any action. Hence, CTAs are highlighted in different colors. Try ensuring it is as prominent as possible so viewers are bound to click on it.
Easy To Close
You must respect the website visitor's choice. If they want to ignore the pop-up, you must make it easy to close the ad. Else the visitor will get annoyed and may never visit the site again. Keep the 'X' close button as visible as possible. If possible, include a button or a line near your CTA that says 'No I Don't Want Your Offer' or something similar.
Frequency
Frequency matters a lot. Instead of leaving the default frequency settings, adjust them. For a weekend or flash sales, increase the frequency, but for regular pop-ups that offer a discount code or free shipping, keep the frequency to once a week or once a month.
Don't Solicit Too Much
Visitors hate taking quizzes and tests. Keep your pop-up ads straightforward and fast, forms short and sweet and if you can get your job done with a name and an email address, do so. Most of the best pop-ups have just a couple of fields, so customers don't waste too much time filling out forms.
A/B Testing –
If you have more than one pop-up, experiment with them to find out your best-performing one. Keep at least one unique difference in each pop-up, like a CTA, copy, or a varied headline. For A/B testing, display two different pop-ups at different times to the same visitor, which can help in identifying the change in the pop-up that makes the current one better, thereby improving the results of your ad campaigns.
In order to create engaging pop-up ads, you can use one or more of the below services.
Hello Bar – With the lowest price for an unlimited number of pop-up ads, this also has a free version, which will limit the number of ads to 10.
GetSiteControl – The pricing for this starts at $7 per month, and there's a free trial available. There's also a pro max package. It's a great service for collecting emails, promoting deals, increasing ad revenue, decreasing abandonment of shopping carts, etc. There are a lot of customizable templates for different goals.
Mailmunch – The free version of Mailmunch allows you to create website pop-up ads to get more emails, converting subscribers to customers.
Sumo – This is a free service that helps you automate site growth, offering independent tools for entrepreneurs and marketers. Most of Sumo's features are free, with their pro version coming in at $39 per month.
AddThis – This is a free service that provides tools for eCommerce for lead generation and to reduce shopping cart abandonment, CMSs, and audience segmentation.
Conclusion
In conclusion, it is very important to create pop-ups that are engaging, creating, and high-converting so that you can deliver a positive experience to website visitors. Your visitors should always be prioritized when it comes to displaying popups. Create them using the free tools we've mentioned, and customize them so you can delight your website visitors. Remember, that the key to an effective pop-up is how it interacts with the user. They are annoying if they appear at the wrong time, during the website or landing page experience. They should be shown when users have read the page, and should always have an option to close it. Read our blog about striking the right balance between ads and user experience to always get that balance right on your website.