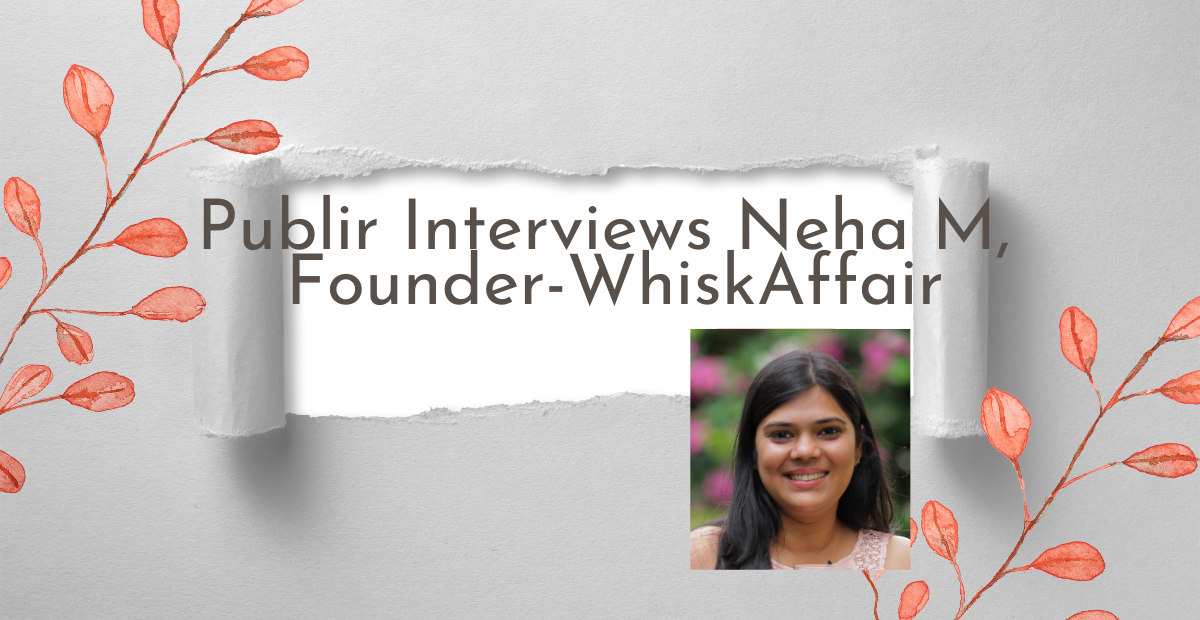 This is an interview with blogger Neha M. In a candid conversation with us, she talked about finding her passion for blogging and converting it into a full-grown business.
What inspired you to become a blogger/ influencer?
I studied to be a Dental Surgeon and after practicing for a couple of years; I was running out of excitement. Soon after that, I got a chance to travel across the globe with my husband's work profile. This was my first rendezvous with the immense range of localization in global cuisine, the various different ways, and methods of cooking, different ingredients, and ways of serving which excited me a lot. I wanted to replicate some of these dishes in my kitchen but it was hard to get a good recipe. I used to try the recipe multiple times and when something turned out good, it was documented in a hard copy diary. My husband suggested, it was a good idea to share it with other people too and this eventually became WhiskAffair, a blog that gave tried and tested recipes to help everyone experience food.
What kind of content do you create? How did you find inspiration in food?
I create content related to food. I love exploring local and seasonal ingredients, trying out new recipes; I love my cookware, utensils, and serving a nicely plated dish. I get a lot of compliments from people across the globe who try my recipes. This is my inspiration which keeps me going.
When did your first collaboration happen? How has your business grown since then?
I've been working with food brands for many years, curating recipes and trying out newly launched products. I have strict criteria to select the kind of collaborations I do with the brands. I only work on those, which I really believe in and I can suggest that to my family and friends. This has helped me build strong credibility with my readers and followers. I create high-quality content which is appreciated by brands. You can see a lot of these collaborations on my Instagram, Facebook, Twitter, and also on my blog.
My social following has grown organically and so has my blog. I get about 700,000 page views a month on my blog now. I've also been able to grow my Instagram following organically to more than 65,000 organic followers in a short time; only with a focus on quality content.
A blog that started as a hobby has also become a good-paying job. My sources of revenue include Ads on the website, brand collaborations, and consulting.
In these times when every other person claims himself to be an influencer/ blogger, how do you keep up with the growing competition on the platform especially when you have difficult algorithms to beat?
I believe all algorithms are trying to do is to help the user; so I don't chase an algorithm or any other influencers/ bloggers but I do the quality work that I feel is best for my readers and followers. WhiskAffair is known for its tried and tested recipes which are easy to follow. More and more brands are starting to realize that it is not the number of influencers that is important but the quality and that's where I focus; highest quality content.
You would find all kinds of recipes on WhiskAffair, which turn out good each and every time. This is how I want to help my readers experience food and make my blog a one-stop place for all recipes.
How do you keep yourself away from negativity? What motivates you to keep creating more?
I'm in general a positive and consistent person. I've worked consistently and smartly to grow organically and that's what I focus on. I get regular appreciation from my readers which keeps me going.
What is your dream about taking your blogging journey to the next level? How do you plan to grow next?
High-quality food-related content keeping my readers in mind is the main thing. I want to grow to more than a million views a month by the end of the year, that's a short-term goal. There are many interesting things in work for the long-term, which I would like to keep a surprise.
How much time do you spend on monetization – working with ad partners, troubleshooting ad issues, etc – versus managing content and growing the site?
I do spend quite some time on monetization. I churn revenue from Ads and affiliate marketing.
What are some new revenue streams that you would like to see on your blog in the next 1 to 2 years?
I plan to have my own range of Gourmet Food, so I would like to integrate a shop-e-commerce widget into my blog. Something like Publir's QuickShop.
What advice would you like to give to the coming-of-age bloggers/ influencers?
Well, I would suggest anyone focus on quality; not just immediate success. This is a continuous commitment and needs a lot of hard work and you need to enjoy doing this work. Try to differentiate yourself from others; rather copy somebody and you would do well with consistency.
To read more such intriguing interviews, check out Publir's Blog!