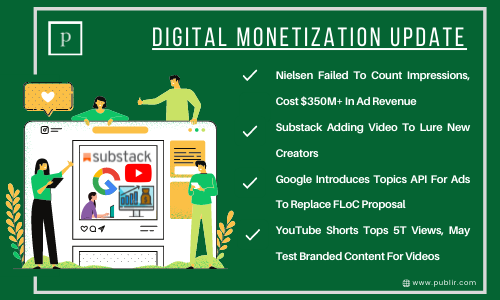 1. Nielsen Failed To Count Impressions, Cost $350M+ In Ad Revenue (Variety)

Nielsen's efforts to count viewers watching shows in "out of home" locations were even less effective than previously thought. In December, Nielsen revealed that in September 2020, a "software issue" resulted in an undercounting of out-of-home crowds. The exact amount of ad revenue lost over this time period is estimated to be more than $350 million.

2. Substack Adding Video To Lure New Creators (Axios)

In order to entice new artists to the platform, Substack wants to release a native video player. Substack creators will be able to easily upload or record a video onto a Substack article using the new native video embed. Previously, producers had to use YouTube to embed videos in their emails or blog articles.

3. Google Introduces Topics API For Ads To Replace FLoC Proposal (TheVerge)

Instead of replacing third-party cookies with FLoC, Google is proposing the Topics API, a new method for interest-based advertising. Topics identifies five of your interests based on your web activity as evaluated by partner sites during a one-week period. These subjects will be stored in your browser for three weeks before being deleted.

4. YouTube Shorts Tops 5T Views, May Test Branded Content For Videos (Variety)

YouTube is highlighting the huge success of its TikTok-style short-form Shorts video feature and says it will explore new revenue opportunities for YouTube Shorts creators. Since the inception of YouTube Shorts in September 2020, the Google-owned video platform has delivered over 5 trillion short-form videos.

5. TikTok, Twitter, Snap Upgrading Ad Tools To Help Drive Brand Sales (AdAge)

Updates to Snapchat, TikTok, and Twitter have given advertisers more direct marketing and sales features, making it easier for users to shop from the apps. Snapchat launched augmented reality filters. The backend of Twitter's ad platform has been tweaked to enable new performance marketing goals while TikTok launched fast-loading pages.

6. DMP Audigent Tests New ID To Face Cookieless Future (AdExchanger)

Due to the failure of third-party cookies, data management platform Audigent has been developing its own cookieless identifier, which it calls the Hadron ID. Audigent thinks that the new identifier will keep the firm competitive in a world where data management platforms are displacing DMPs.

7. Discord Recovers From Two-Hour Widespread Outage (Engadget)

For a portion of the day, Discord was unavailable due to a recent and "widespread" API outage. Discord began examining the situation when complaints of the issue began to appear online. It said minutes later that it had found the root cause of the outage, but that it was also working with a secondary issue involving one of its database clusters.

8. Meta's Cryptocurrency Venture To Wind Down And Sell Tech Assets (Reuters)

Diem Association, a digital currency initiative of Meta Platforms Inc, is closing down and selling its technology to Silvergate Capital Corp of California for around $200 million. Diem, formerly known as Libra, was initially announced in June 2019 as part of Meta's ambition to extend beyond social networking into eCommerce and worldwide payments.