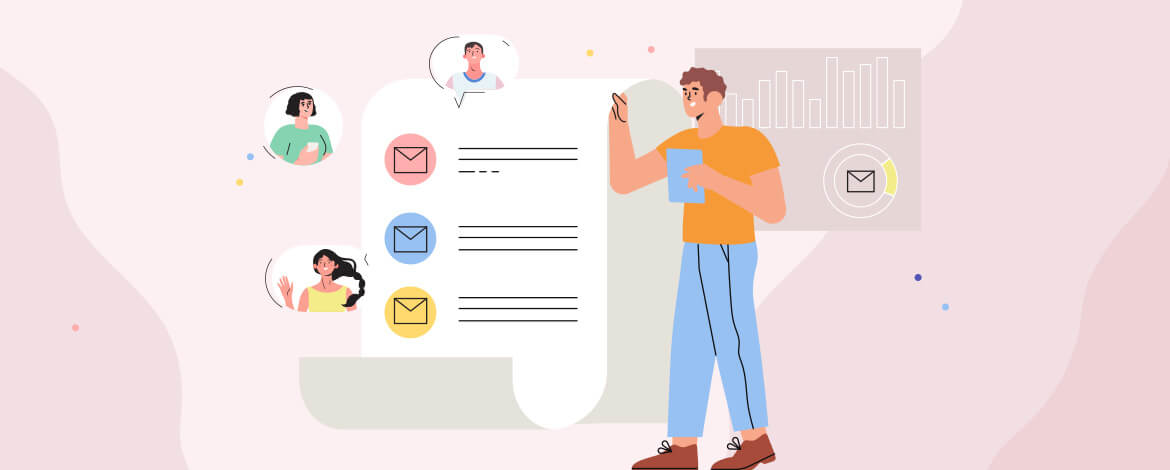 As the world moved entirely online ever since Covid-19 hit, businesses have had a tough time finding newer and novel ways to reach potential customers. This is why they decided to boost up existing methods of getting in touch with customers. Social media channels and search engines are great, but nothing quite has the potential and level of personalization that email marketing has. Having said that, how many promotional emails do you receive in your inbox every day? Even better, how many of them do you even bother opening? You see, sending a promo email isn't a joke. From curating the right email lists to crafting the content to testing and finally sending, it's a process. Curating an email list is time-consuming and challenging. Telemarketing, events, online promotions, and other methods are some traditional methods of collecting emails. A lot of marketing professionals ponder about purchasing email lists, to pad up their existing email lists. This is a quick-fix way to add potentially thousands of new subscribers to your list, giving you the chance to communicate with a whole new bunch of people. But, is this a good idea? Well, no. 
Why should you not buy Email Lists?
There's no shortcut to success, no matter how tempting it might seem. Whether you are a new company looking to build a fresh list or an existing firm trying to increase its list, buying email addresses will be a waste in the long run. Typically including names, email addresses, and sometimes even personal data like income or company name, these for-sale lists can seem a great way to launch an email marketing campaign. Truth is, that they aren't as great as they seem. Unsolicited emails are spammy and annoying and can get you blocked from the customer's inbox or relegated to the SPAM folder. 
Top reasons why purchasing Email Lists is a terrible idea 
Go For Quality, Not Quantity
Would you rather invite 100 close friends for a birthday party, or distribute 1000 pamphlets declaring free food and drink to 1000 random people on the road? Now, while people might willingly show up for a free feast, the same cannot be said when it comes to spending. Everyone won't be so eager. People who sell email lists aren't very honest. The list may come rife with inaccuracies like missing data or wrong names, and out-of-date information. There are also email addresses illegally harvested from the internet. If you send such addresses promo emails, it goes against the CAN-SPAM Act. 
Loss of Face
Why come across as a spammer? No one enjoys receiving unsolicited emails, especially marketing messages, subtle or obvious. Such emails are deleted after they annoy you. No matter how well you think your own promotional emails are written, for another recipient, you're just another spammer. When people have joined an email list that gets sold, it is usually after they have checked some boxes or agreed to certain terms and conditions about receiving offers from 'similar or related companies'. Most people don't even read terms and conditions, let alone remember them, so there's a good chance you'll be treated as spam. 
Your Email Service Provider Will Hate You
If the majority of your emails are getting marked as spam, it will alert your service provider. Your account may face closure, and you may face a penalty with your email service provider even resorting to legal action. An email list purchase is itself frowned upon by certain email service providers. Most of the major players like Mailchimp, Constant Contact might be okay with it, but some like Aweber discourage the practice altogether.
Others are Using Similar Lists
Here's some news. Others too, have purchased email lists and are using the same addresses as you. Just like you, they've purchased the list too, and are sending repeated emails to the same recipients. A lot of the people on that list may already be saturated with marketing emails, and they won't be in a mood to entertain your company's query on top of that list.
Poor Response Rates
If you purchase an email list of 20,000 names, you might be wondering if you even get 2.5% conversion rates, you may sell a lot of products, break-even and make a profit too. However, reality paints a different picture. The vast majority of people don't open emails, let alone click on the links present in them. Even if around 500 people look at your email, and don't engage, you won't manage a single sale. 
Fines and Legal Trouble
There are laws against unsolicited bulk emails, like the American CAN-SPAM Act. While you might be able to avert laws by using a purchased email list, major subscriber complaints can get you into trouble, and legal fees to prove you have not done anything wrong, will cost a fair sum. Some countries like Canada have different laws, and if your email lists have people from cities like Toronto, you need to comply with such laws. 
So, in general, purchasing an email list is not recommended.
If you want people to sign up for your email list, create a website that will draw them in. That way, they're receiving something of value before you ask for something in return. This helps build trust and goodwill in the long run. Attract an audience with useful engaging content.
How to grow your Email List?
Read our blog on growing your email list to find useful tips. In addition to doing that, here's what you can do. 
Use Lead Magnets
An incentive offered to potential subscribers in exchange for their email addresses, lead magnets could help you get some useful addresses. Deciding what magnet to use depends on your industry and what your audience wants. It could be a list of resources, some guides, or tutorials. 
Use Reputable Email Service Providers
Ditch any past purchased lists, and avoid cutting corners by using email clients like Outlook or Gmail. Your ISP will start penalizing you, and you might miss out on their key features or advantages. Any reputable email service provider can help you. Also, test your emails before sending them out. Here's a list of tools to help you do that.
Leverage Social Media
One of the best ways to reach potential consumers and harvest email addresses is to use social media. A simple campaign to collect addresses in exchange for a newsletter might be a great idea. Social media will bring its own additional audience as well, so you'll have a whole new bunch of people to interact with.
Paper and Pen
There's no harm in being traditional. If you have a storefront, collect email addresses in a visitor's book, the old-fashioned way! Or, if you have been invited to a trade fair or networking event use similar methods to collect email addresses. 
Remember, just like purchasing social media followers is never a good idea, buying email lists isn't too great of a concept either. To start a successful campaign, you must start on a good note, getting addresses of worth.
Conclusion
No matter the chosen route, you have to track the performance of your email campaigns. Use CRM software for customer base management, combining it with demand forecasting. Keep measuring and tracking your efforts to fine-tune your email marketing strategy, making it the best it can be.