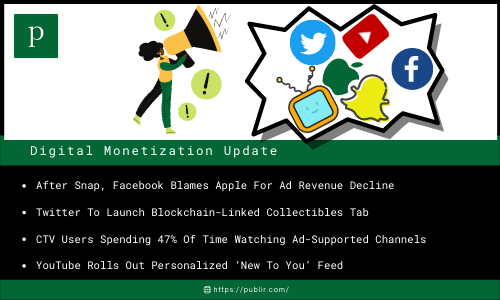 1. After Snap, Facebook Blames Apple For Ad Revenue Decline (AdAge)
During the third quarter of its fiscal year 2021, Facebook announced a 33% rise in ad revenue to $28.3 billion. Following Snap's blame of Apple policy changes, Facebook CEO Mark Zuckerberg stated on the results call that the firm suffered sales challenges this quarter, particularly from Apple's iOS14 changes that are "negatively hurting" the business.
2. Twitter To Launch Blockchain-Linked Collectibles Tab (TheVerge)
Twitter is working on a tab that displays a user's NFT collection. Twitter is working on a view that allows the user to have a close-up look at an NFT in addition to the Collectibles tab. Users will also be able to navigate to a website with more information on the NFT, such as a description, its inventor, any attributes, and some collection details.
3. CTV Users Spending 47% Of Time Watching Ad-Supported Channels (MediaPost)
According to a survey conducted in June by Statista for sell-side advertising platform Magnite, nine out of ten US connected TV (CTV) viewers report watching ad-supported content, up from four out of five a year ago, and these viewers estimate that 47% of the content they watch is ad-supported, versus 53% ad-free.
4. YouTube Rolls Out Personalized 'New To You' Feed (TechCrunch)
After testing the feature earlier this year, YouTube is now rolling out a dedicated "New to you" page on its site. The new tab is now accessible on the YouTube homepage on mobile, desktop, and TV devices. According to YouTube, the tool will help viewers discover new artists and material in addition to the recommended videos they are watching.
5. Facebook Papers Questions Company's Core Features (MediaPost)
The Facebook Papers, a collection of internal documents recently leaked by Francis Haugen, reveal that Facebook is conducting internal tests that call into question the NewsFeed, the Like button, features like Pages, share button, and an automatically generated recommendations system; all have been linked to a dangerous spread of misinformation.
6. Samsung Partners With Best Buy Offering In-Store Phone Repairs (Engadget)
With a recently announced Best Buy agreement, Samsung is attempting to assist users of its flagship products. More than 100 Best Buy locations throughout the United States will begin offering Galaxy S and Galaxy Note repairs starting on October 26th. The same places will then begin mending Samsung's Galaxy Z foldables early next month.
7. Gaming CEO Calls On Industry To Help Fight Climate Change (Axios)
After finishing a $1.4 million fundraising drive this summer, Gaming CEO Kristian Segerstrale is calling on leaders in his sector to take action on climate change. The mobile gaming CEO, who now controls the ironically named Super Evil Megacorp, was horrified by climate research that underlined the dangers of an Earth that warmed by more than 2°C.
8. PayPal Says Not Pursuing Acquisition Of Pinterest (BloombergQuint)
PayPal has confirmed that it will not pursue a $45 billion takeover of Pinterest, putting an end to speculations. Last week, PayPal approached Pinterest about a possible partnership. According to persons familiar with the situation, the firm explored a potential price of roughly $70 per share, which would have valued Pinterest at around $45 billion.