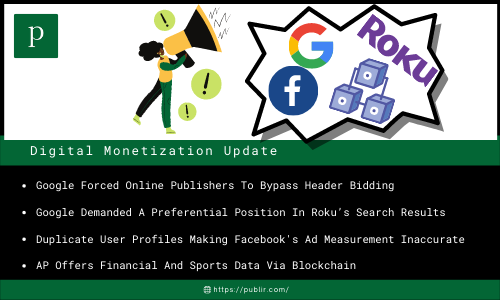 1. Google Forced Online Publishers To Bypass Header Bidding (AdAge)

According to new unsealed court documents, Google tried to play a "jedi mind trick" on the advertising technology world. It tried to force and influence publishers to abandon header bidding, which was a popular way of serving ads online and demanded bypassing others in favor of Google's ad auctions.

2. Google Demanded A Preferential Position In Roku's Search Results (CNBC)

While Google announced that it is pulling YouTube Apps away from Roku's App store, the fight intensified from an email leak of Roku, showing Google demanding a preferential position in Roku's search results in 2019. Though Google dismisses them as baseless, leaks are adding strength to Congressmen seeking antitrust motions.

3. Duplicate User Profiles Making Facebook's Ad Measurement Inaccurate (WSJ)

Facebook is unable to gauge ad performance properly, according to a new report. Facebook is struggling to measure ads performance not only because of Apple's privacy changes but also due to multiple Facebook profiles of its users. Of roughly 5,000 new Facebook accounts it examined, at least 56% were repeated profiles of the existing users.

4. AP Offers Financial And Sports Data Via Blockchain (MediaPost)

The Associated Press has fully embraced blockchain, by making its economic data, sports game outcomes, and business financials directly to applications running on various blockchains. It is an ideal way to provide smart contract developers anywhere in the world with direct, on-demand access to AP's trusted data via AP's Chainlink.

5. Streaming Ads Are More Invasive and Repetitive For US Audience (MediaPost)

Consumers shifted to streaming services to escape from invasive ads and repeated movie casts of linear TV. Over 44% of the US consumers now complain that streaming services are also showing too many ads that are repetitive. 66% to 68% consider social media and website ads as even more invasive, according to Morning Consult Survey.

6. Twitter Allows Subscribing Newsletters From Users' Timelines (Revue)

Starting Friday, Twitter allowed followers to subscribe to Revue newsletters directly from Tweets in their timeline. Twitter has already enabled this facility for all Revue writers on desktop and will be extending it to iOS and Android soon. This feature helps writers earn subscription revenue, while followers get newsletters with a single click.

7. Clubhouse Lets Moderators Monetize Outside Work On Platform (TheVerge)

Clubhouse unveiled a new "pinned link" feature that allows moderators to monetize works outside Clubhouse as links on top of a moderator's room. These links can direct listeners to a room of moderator's choice, such as a news article or a podcast. It banned links to porn. This feature will be available from October 27th for both iOS and Android.

8. Draken's Bad Movie Index Alerts Viewers On Film Quality (AdWeek)

Draken Film, a Swedish streaming service has developed BadMovieIndex.com, a website that collects data on the most-watched titles on streaming sites and calculates the movies' ratings on review sites. It releases a bad film index and places the lowest charges for boring films. The idea is to attract viewers to its site while avoiding boredom.