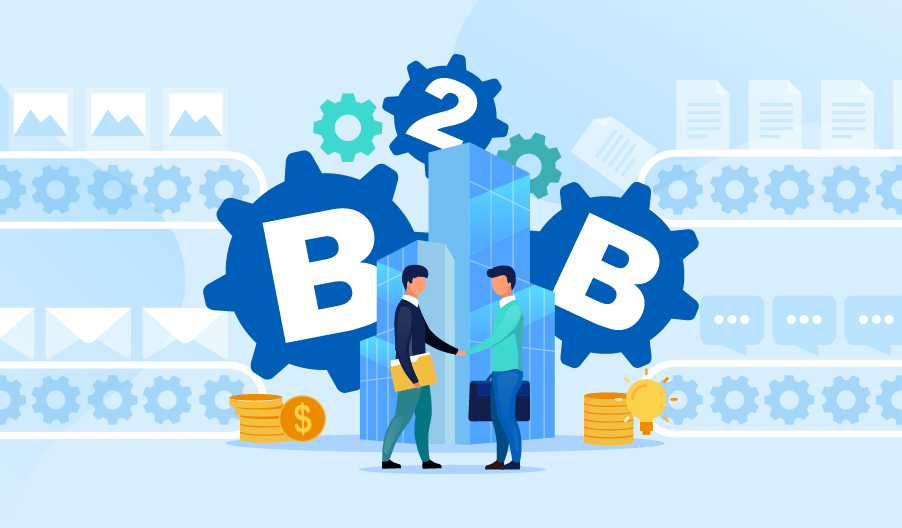 Content truly is king. There are no two ways about it. Your product or service may be amazing but unless your marketing content is on point, sales won't happen. A type of marketing involving the creation and sharing of online material including but not limited to blogs, social media posts, and more, marketing content could be very effective in helping you reach your objectives.
Top 10 Examples of B2B Marketing Content
Today people are spending more time researching options before making a purchase. The perfect mix of intriguing and informative content is what is required to draw these potential consumers in. And to do this well, businesses need to have an effective content marketing strategy. Here are 10 great examples to use as inspiration.
This all-in-one SEO toolkit finds mention in a lot of digital marketing forums, and for good reason. Including a site auditor, keyword and content explorer, a site explorer, and a rank tracker, Ahrefs can make a page rank higher. Ahrefs marketing content strategy consists primarily of two blogs focusing on SEO and tech, an academy, and a help center. The company is also present across social media networks like Twitter, Facebook, Instagram, and YouTube with different kinds of content going through varied distribution channels. Ahrefs is proficient in distributing content through each of the aforementioned channels, with their YouTube channel having a large following. Ahrefs also repurposes its content regularly and has several featured channels about other video marketing content, SaaS marketing, and more. On Twitter and Facebook, they push different kinds of content. Their versatility and consistency make them a great example of B2B marketing content.
One look at Wistia's Instagram page will tell you that they've nailed the concept of including the very important human element in B2B marketing content. Companies should use social media channels to bring their audiences closer to the people who manufacture the products and services the audience loves. Wistia, a video hosting platform, shares visual content on Instagram boosting views. Their content, aligned with the core of their product or service, is great and Wistia is a great example of how to use your unique selling point to your advantage, to reach out to your audience.
A business management solutions provider based in Australia and New Zealand, MYOB helps organizations handle their finances, putting them in touch with bookkeepers and people working in financial services. There are small businesses just starting out, or established organizations that want a good insight into their own operations. The reason MYOB is a great example of B2B marketing content is that it has a strategy for each of these businesses. MYOB understands that a lot of firms are still in the process of making accounting and financial decisions while growing. MYOB's positioning as an authority to help these businesses develop and grow has helped create a curious audience. MYOB understands this audience's needs and tries to deliver accordingly.
LinkedIn
You wouldn't expect a social media network to make this list, much less a quiet one like LinkedIn, composed mostly of professionals and corporates who take their roles very seriously. Well, this seriousness is what attracts a lot of talent from fresh college graduates to junior and mid-level executives looking for a job change. The content on LinkedIn is a little more serious but informative and is great for building your career on a digital platform. The platform knows how to promote its own marketing content efforts, with its 'Secret Sauce' campaign being an example. On YouTube, they've got employees giving talks on content promotion and narrating personal experiences. This brings a little relatable human emotion into the corporate world. With its subtle but powerful messaging, LinkedIn is a great example of B2B marketing content.
This consultancy and financial services company that has its fingers in tech, auditing, and more, is spread out wide. Working with everyone from government agencies to firms in the scientific fields, Deloitte's credibility is its vast and deep knowledge base. Via Deloitte Insights, it is adept at creating useful, informative content for individual, special audiences, and has positioned itself as an indispensable resource for those who want what it knows. Deloitte also curates content across a variety of formats, like blog posts, podcasts, and webcasts. It has some interesting content for everyone. Creating a wide-scale content strategy to make everyone happy is difficult. Microsites could help in this regard. Establishing themselves as a go-to resource, a content hub, and a knowledge center makes Deloitte Insights a great example of B2B marketing content.
NextView Ventures
NextView Ventures does things slightly differently. It decided to cash in on the popularity and niche audience of Medium, and through its publication Better Everyway, it focuses on stories, analysis, and resources that seed-stage founders could really use. This is a smart move by NextView, to create off-site content, i.e material that you own but that doesn't inhibit your website. Couple that with the popularity of Medium, and you have a good boost in discoverability for publishers. Via Better Everyway, NextView experiments with a variety of content, and as a result, the work published is interesting, diverse, and shareable.
Simply Business
One of the largest insurance brokers in the United Kingdom, Simply Business has a smart content strategy that involves giving business owners advice about a variety of issues ranging from email productivity to WordPress, business blogging, social media, AdWords, and more. As a result, their organic traffic increased because of nicely-placed thoughtful keywords, and pertinent topics the audience was interested in.
Zendesk Engineering
Another firm that is nailing the offsite content concept is Zendesk, through its Medium publication. As an expert in solutions provided by its core product, i.e software, Zendesk has opened up its consumers to a whole new world: The world of highly skilled experts, the brains behind the software. Realizing that there are people who want insights and have technical questions about the product, Zendesk decided to make their product interesting by providing an insight into what goes into it.
Single Grain
This isn't just another digital agency. Focusing on tech startups, Single Grain wanted to attract big players like Uber and Amazon. So, they used content designed to convert site visitors into subscribers. Their holistic content marketing strategy included a highly detailed blog on online marketing, a podcast featuring their CEO and market thought leader Neil Patel, and an online resource center stocked with guides, webinars, courses, and infographics. Being one of the few firms to go down the podcast route has paid off because their episodes are highly sought after. Their blogs garner a lot of shares and their website traffic and business awareness among their target consumers have increased as a result.
Raise The Bar
An initiative by Mattermark, Raise The Bar is a great example of curated content. Marketers with their plates full don't want to keep scouring the internet for news and trends. Raise The Bar saves them the trouble by compiling a daily newsletter of sorts, with posts on sales, growth engineering, and marketing. Their aim is to help people who 'grow' companies. They have played the 'problem solver' card, turning into a voice of authority. That makes for great relevant content for their audience, in an easily accessible package.
Final Thoughts
In conclusion, just because a firm is in the B2B space doesn't mean its content cannot be dynamic. In fact, for companies in this space, it is an even bigger challenge to make their products/services appear appealing and attractive to potential consumers. There's a lot of great B2B content floating about the digital space and a world of content opportunities for B2B content marketers. Read our blog about how to set and achieve marketing objectives, to help your firm reach its marketing goals.