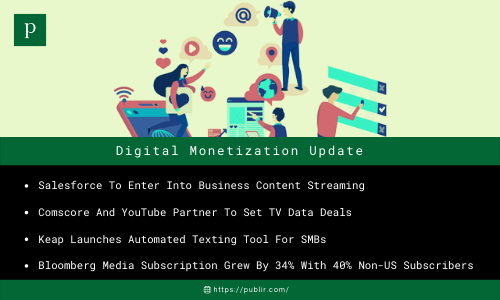 1. Salesforce To Enter Into Business Content Streaming (AdAge)

Salesforce is launching Salesforce+ in September to host live and on-demand shows from its in-house production group, Salesforce Studios. Salesforce+ will debut five original shows on leadership and business, including "The Inflection Point," offering stories on CEOs, and "Connections," which interviews marketers at companies like IBM.

2. Comscore And YouTube Partner To Set TV Data Deals (FierceVideo)

Comscore will provide marketers with data on how audiences are consuming data on YouTube and YouTube TV across desktop, mobile and connected television (CTV). The agreement will also examine combined co-viewing for YouTube and YouTube TV across over-the-top and CTV.

3. Keap Launches Automated Texting Tool For SMBs (MediaPost)

When email open rates have fallen to 21% and texting is 94% productive, entrepreneurs can supplement, or replace their email marketing with SMS, as 90% of text messages are read within three minutes, versus 48 hours for email. Keap launches a new marketing automated text-messaging tool with a broadcast texting feature with built-in compliance.

4. Bloomberg Media Subscription Grew By 34% With 40% Non-US Subscribers (Axios)

Subscriptions to Bloomberg Media increased by 34% in the first half of the year, reaching over 325,000, according to an internal memo issued by CEO Justin Smith. This is an increase from the nearly 250,000 subscribers recorded in the fourth quarter. According to the document, more than 40% of subscribers are from outside the United States.

5. YouTube Targets Gen Z Creators For Shorts (TheDrum)

YouTube kicked off one of its biggest brand campaigns ever to attract Gen Z audience to its new mobile-first, short-form content offering, YouTube Shorts. It stars some of the biggest music artists in the world in a series of videos. The campaign demonstrates how young creators can make their own Shorts using music from today's top musicians.

6. YouTube, Google Launch New Protections For Kids Under 18 (Variety)

Google's "safe search", which excludes sensitive or mature content, will be the default setting for users under 18, which up to now had been the case only for under-13 users. On the massively popular YouTube platform, content from 13 to 17-year-olds will be private by default, the tech giant said.

7. Match Debuts A New Platform "Adults Date Better" (MediaPost)

Match debuts a new brand platform: "Adults Date Better," based on research conducted by its agency, Mojo Supermarket, on Reddit's Dating, which says, "Adult daters have been overlooked for the longest time". The new platform aims to help singles in their thirties to show them some love, by helping them find a partner.