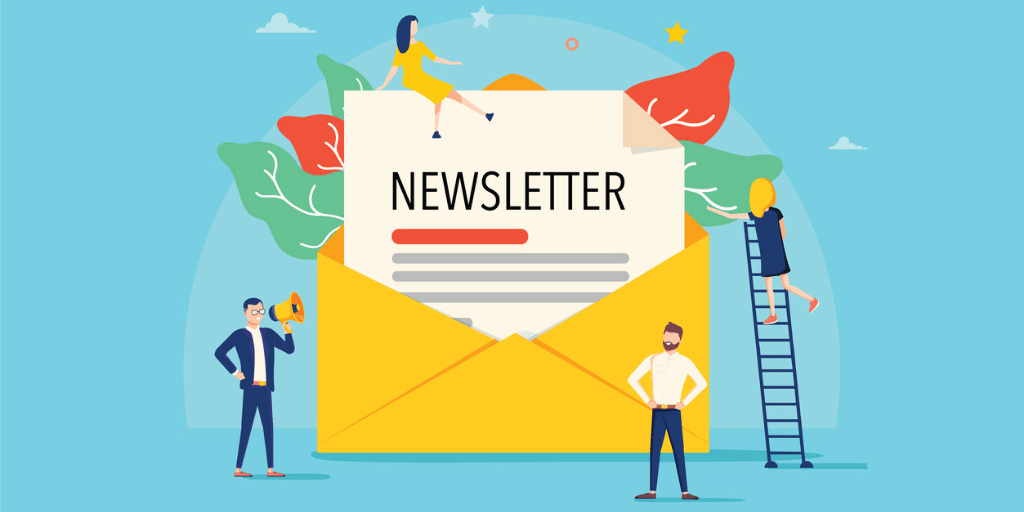 The humble email has been used as an effective marketing tool for ages. In 2021 itself, around 4 billion people in the world used email (Source). As simple as it seems, creating an interesting email to engage your customers isn't easy. You need to be visible and on the minds of your target audience, and newsletters help in that regard. A newsletter is an email that gives your subscribers interesting content, promotions, or announcements. It may be useful for keeping audiences in the loop and gaining new loyal fans. 
Tips To Create An Awesome Email Newsletter
But how do you craft an interesting newsletter in an age when hundreds of emails find their way into consumer's inboxes daily? Do you yourself religiously read every promotional email or newsletter that comes your way? Well, whether you do or don't, here are some steps to creating an engaging newsletter that people actually read.
Figure Out Whether You Actually Need One
Do you really need an email newsletter? If it doesn't fit into your marketing scheme of things, don't force it. Do industry-wide research first, and see whether there are successful newsletter case studies. Comb them for resources. You need to then examine your business goals. Do you want more leads? More sales? Get more customers or retain existing ones?
Now, if your industry isn't heavy on newsletters, or if your organization's objectives don't line with the offerings of a newsletter, then your time might be wasted. It would be wise to collate data and create a POA before plunging into creating an email newsletter. You need to truly decide whether you really need one.
What Kind Of Newsletter Would You Like To Send
If a newsletter isn't structured well, or if it's ambiguous, cluttered, or without focus, it isn't really helping your cause. Since newsletters focus on every business aspect, they tend to become spread thin. Product news, customer success stories, blog posts, events, everything comes together in one large mess. Stick to specific topics in newsletters. One specific newsletter for people who are interested in a niche topic has the opportunity to get you more engagement than a more generic newsletter catering to a wider audience.
Don't Be Too Promotional
Your newsletter content needs to be 90% educational and 10% promotional. Your subscribers will get fed up if you keep saturating them with information about your company, product, or service. There's only so much company and product-centric content that you can keep pushing out. For example, if you are looking to buy a laptop, and have decided on one website that sells them, consequently subscribing to their email list, you will get fed up if they send you 2 or 3 emails daily, persuading you to buy their company products. Sure, some educational emails regarding the latest laptop processors or the best machines for gaming and coding might be useful, but nothing beyond. Don't carry out excess self-promotion in your emails, and concentrate on sending out relevant, educational, and timely information. Unless you have some big news about your product or service, leave out unnecessary promotions.
Be Clear With Expectations On Your Subscribe Page 
After narrowing down on your email newsletter's focus areas, and content, make sure you communicate this point clearly on your subscriber landing page. Potential subscribers should know what to expect in the newsletter, and how often your company will mail them. Giving potential subscribers a preview link is a great way to present a teaser and get them hooked to your campaign.
Have An Interesting Subject Line
Just having your subscribers on a list, and your email in their inbox is not enough. Your subject line needs to capture their attention so they open your email in the first place. Many marketers keep the subject line the same, every day, week, or month, and this gets old for subscribers, fast.
Choose A CTA, And Stick With It
Nothing's more confusing or irritating than multiple CTAs in the same email. You might have multiple pieces of content, but don't have too many CTAs. Have one main CTA, that you'd have your subscribers click on. The rest of the options you present, if any, should be just links to blogs, or options to forward the email. A clear CTA is especially important if you're running a discount campaign, and are looking to increase your subscribers by way of on-site registration.
Content, Content Content
Let's get to the heart of the matter. The content in your newsletter is of primary importance. Nothing, not the subject line, or the imagery, serves any purpose if the content is poor. Ensure your content is concise, clear and the information is original and useful.
Content needs to be thought-provoking and creative, so users actually have a reason to be interested in what you have to offer. Sparking an interest may seem tough, but sustaining it over a period of time is even tougher. Your newsletter content quality must be consistent to draw in readers interested in that particular topic over a span of months.
Ensure it Looks Good
An email newsletter's design is a vital part to ensure readers click, read, and return to your newsletter. Your written content, as mentioned above, needs to follow a consistent style. Your layout and imagery too should be visually engaging, highlighting your creativity. Use high-resolution photos, appealing color palettes, and illustrations to grab your audience's attention. With over half of all emails read on mobiles, ensure your newsletter reads properly on smartphones (Source). 
Market What You've Made
Creating a newsletter, sending it out, and not marketing it effectively again cuts the newsletter's benefits. People need to sign up for your newsletter. To ensure they do, market its existence. Invest in banner ads on social media channels for starters. 
Be In Touch Consistently
It would be a great idea to stay in touch periodically with your subscriber base. Keep your readers satisfied over a long period of time by scheduling content way in advance. Sticking to a said schedule can help you build a large content pool, from which you can use ideas. Select and stick to a schedule, as this helps build reader trust.
Draft, Review, and Test
Create multiple drafts in the names of different people. This can be someone you know or a persona you've created. Write the email as if you're writing to them. This exercise will make your newsletter campaign feel more personal. Consumers love being addressed individually via tailored email messages.
Final Thoughts
The above tips might help in crafting an email newsletter your subscribers find interesting. Nurturing a loyal pool of readers is essential. Over time, they may translate into buyers, and in the future might become product authorities – giving great testimonials on your behalf through their social media pages and other channels, content which you can repost to boost your firm's credibility. A customer always loves feeling special, and a well-crafted email newsletter that offers them something without sounding sales-ey and cliched does just that.
Read our blog on email marketing terms so you can reach your existing subscribers more effectively, and onboard new ones.