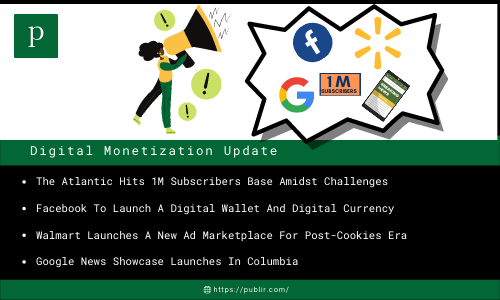 1. The Atlantic Hits 1M Subscribers Base Amidst Challenges (DigiDay)

The Atlantic's subscription base has increased by over 50% in the last year, owing to its coverage of the epidemic and the US presidential election. While The Atlantic is getting closer to 1 million subscribers, the main challenge now is to maintain the pace in the face of declining traffic for news publishers.

2. Facebook To Launch A Digital Wallet And Digital Currency (TheInformation)

Facebook aims to become a key player of the $2 trillion crypto market in the coming months, as it is inching close to its goal of launching a digital wallet 'Novi' that would allow its 2.9 billion users to store cryptocurrencies. This will be ahead of Facebook launching its own digital currency, Diem.

3. Walmart Launches A New Ad Marketplace For Post-Cookies Era (AdAge)

Walmart announced the launch of Walmart Connect, a demand-side platform with The Trade Desk as a partner. It is part of Walmart's efforts to compete with Amazon and other retailers that are developing media services to help brands buy ads across the internet. Walmart applies TTD's technology to target the audience with first-party data it owns.

4. Google News Showcase Launches In Columbia (9To5Google)

On the 10th anniversary of Google's presence in Colombia, the tech giant is investing in the future of news in the country with the launch of Google News Showcase, their new product experience and licensing program for news. Colombia is now the third country in Latin America, alongside Argentina and Brazil, to provide News Showcase for readers.

5. Fox Funds Blockchain-Based Digital Content Management Platform (MediaPost)

Fox Corp. invested in Eluvio Live, a management and distribution platform for digital content that exists on blockchain technology. Eluvio is the company's platform for publishers, providing 4K streaming and tickets for events with media marketplaces for artists. Its customers include Fox, MGM, and Sony Pictures Entertainment.

6. Vox Media Acquires Punch To Boost Its ECommerce Efforts (MediaPost)

Vox Media that provides extensive coverage of food and restaurants and cocktail culture with Eater has acquired Punch to boost and diversify eCommerce revenue. The company also owns New York magazine, The Verge, Polygon, and SB Nation. Vox Media hired Eric Karp as SVP of brand licensing to oversee eCommerce operations.

7. Google Releases YouTube Music Wear OS App (TheVerge)

Google released a Wear OS app for YouTube Music, which plays music off Google's streaming service after it has shut down Google Play Music on Wear OS in August 2020. This new app will work only on one of Samsung's two new watches powered by Wear OS 3, which will be available from August 27.