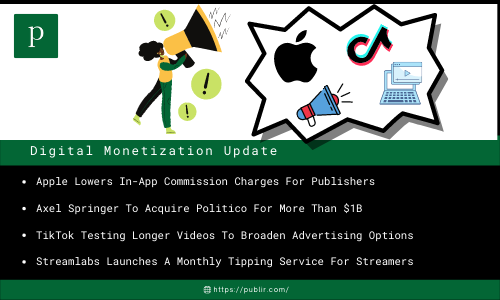 1. Apple Lowers In-App Commission Charges For Publishers (TechCrunch)

Apple is launching a new program that will allow subscription news organizations to participate in the Apple News app by meeting its standards. Typically, Apple deducts 30% commission on revenue during their first year on the App Store and drops to 15%. The new program will make the 15% commission rate for participants starting on day one.

2. Axel Springer To Acquire Politico For More Than $1B (WSJ)

Axel Springer has agreed to buy Washington DC publisher Politico, expanding the German publisher's portfolio of the US-based media holdings. The deal is valued at more than $1 billion. It will also acquire the tech news site, Protocol from Politico. Axel Springer already owns Business Insider and Morning Brew in the US.

3. TikTok Testing Longer Videos To Broaden Advertising Options (MediaPost)

TikTok, the world's most downloaded non-gaming app in July, is testing longer videos, up to 5-8 minutes on its platform. Originally from 15 seconds, TikTok upgraded to 60 and then to 3 minutes videos, and has expanded in social commerce. Longer videos will offer wider advertising opportunities for brands.

4. Streamlabs Launches A Monthly Tipping Service For Streamers (TheVerge)

Streamlabs, a popular livestreaming software company, is rolling out a monthly tipping service as an alternative way for streamers to earn money from their fans. It offers streamers flexibility on the kinds of subscriptions they offer and can be integrated directly into Streamlabs' OBS software suite for streaming to Twitch, YouTube, or Facebook.

5. Netflix Experimenting With Mobile Gaming Exclusively In Poland (CNET)

Netflix is experimenting with mobile gaming for the first time on its own app, introducing two pre-existing Stranger Things games to its Android app for free — but only in Poland. Netflix said it aims to expand into video games, beginning with ad-free games, which would be available on the company's existing service at no additional cost to customers.

6. Zoosk Monetized Its Email Ad Slots, Boosts Revenue By 35% (MediaPost)

Zoosk, a global dating app for a slightly older demographic, generates 4 to 5 million email opens per day. It had monetized its emails with advertising, using LiveIntent's, LiveTags technology. Zuke enhanced its ad size and within 35 days, it had increased its fill rate by 34%, its CPM by 14%. It boosted ad revenue from 20% to 35%.

7. Snapchat's New AR Features Can Identify The World Around You (TheVerge)

Starting on Thursday, a Snapchat feature called Scan will be upgraded and placed at the front and center in the app's camera, allowing it to recognize a variety of objects in the real world, such as clothing or dog breeds. Snapchat's prominent placement of Scan indicates that the firm is evolving from a messaging app to a visual search engine.