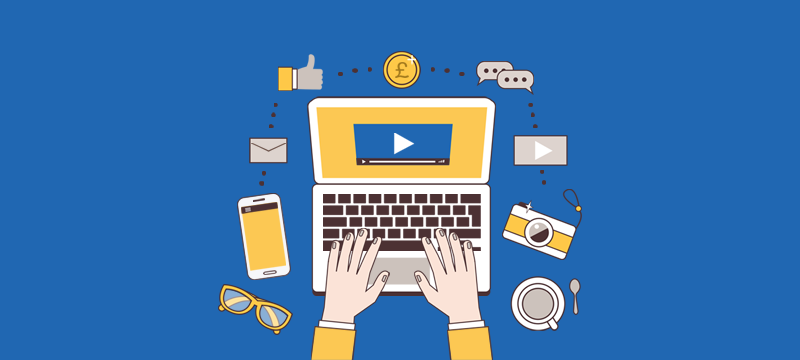 In a time where people are encouraged to stay at home, running a blog is a good way to earn extra income, whether passively or not. It certainly helps that Americans spend an average of four hours browsing the net on their phones every day — a whole 30% more than 2019. That said, there are several ways you can monetize your blog more, from bumping your website's traffic to placing intuitive content. Here are some of them:
Place relevant ads
Placing ads is the easiest way to make your blog generate passive income, and you have a great deal of control over the types of ads that appear. For example, if your blog is about sports, you can edit your ad settings to reflect that.
Just be vigilant when choosing your ad vendor, as not all of them are easy to work with. The three important questions you should be asking yourself are:
• Is the ad vendor transparent?
• Is their platform easy to use?
• Do they offer accessible support?
If they offer big payments for their ads, that's just a bonus.
Become an affiliate
Affiliates earn commissions by successfully convincing people to buy the partnered company's product or service. The easiest way to be an affiliate is to join affiliate programs like Amazon Associate and ShareASale. There are a lot of nuances as to how affiliates are charged, but it's usually dependent on the product keyword's number of searches and how much the purchased items are.
Alternatively, you can directly approach companies that are relevant to your reader's interests and promote their goods. Typeform and Bluehost are some examples.
Have an SEO strategy in place
If you want the above strategies to generate money, you need more people coming to your website. One way to do this is to have a search engine optimization or SEO strategy. This means creating content that's more likely to rank on search engines, making them easier to spot.
There are many things involved in an SEO strategy, so it helps to hire professionals, even freelance ones, to assist with the planning. A digital marketer is one of the most in-demand jobs in data analytics because every industry benefits from its expertise. For blog owners, they can help analyze patterns in organic traffic and monitor search trends to help determine the best SEO strategy for your website. Usually, their recommendations will revolve around keywords to use, links to include, and topics to cover.
Churn out quality articles
While SEO is good for getting people on your site, the best way to make them stay is to produce quality content. Megan Totka, the marketing director for Chamber Online, recommends setting goals on all your blog posts. After all, depending on whether you're there to report facts or share a personal experience, the way "quality" is achieved can vary. For example, if you're writing a guide, you need to back up your claims with research (unless you're an authority on the topic).
On the other hand, when sharing an experience, you need to think about what insight can the reader draw from your post.
You can also open your blog to guest posting. If you find truly great writers in the process, you can even invite them to collaborate more, increasing the number of valuable content on your website.
Create exclusive content
If you're creating excellent content and are steadily gaining visitors every month, consider publishing premium articles. These can only be read by people who pay for a membership or subscription. It's one of the biggest time investments out there since you need to write more on top of your usual content. However, it can be lucrative if it succeeds, as payments are recurring. Plugins like Memberpress can easily help you integrate membership features into your website.
Website visitors are not easy to gain and even harder to retain, but if you manage to attract a lot of readers, the money potential of your blog skyrockets. Think about what monetization strategy works best on your blog based on the time that you're willing to invest in it and how much money you want to generate from it.
exclusively written for publir.com by Audrey Gomez