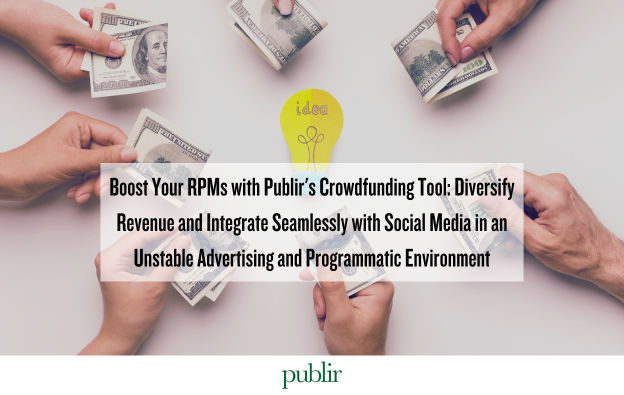 Introduction
In today's ever-changing digital landscape, publishers are constantly seeking innovative ways to generate revenue and stay ahead of the curve. With the advertising and programmatic markets growing increasingly unstable, it has become crucial for publishers to diversify their revenue streams to ensure financial sustainability. Enter Publir's Crowdfunding tool, a comprehensive solution designed to empower publishers and help them achieve their revenue goals while integrating seamlessly with their social media accounts. In this article, we'll explore the key benefits of Publir's platform and provide references to studies that support our claims.
Diversifying Revenue Streams
A study by the World Association of Newspapers and News Publishers (WAN-IFRA) revealed that diversifying revenue streams has become a critical strategy for publishers to thrive in the digital era. Publir's Crowdfunding tool enables you to tap into the immense potential of your audience by offering various subscription models, one-time donations, and tiered support options. This comprehensive approach helps you build a loyal community while creating a more predictable and sustainable revenue source.
Easy Integration with Social Media
Publir's Crowdfunding tool not only offers a versatile platform for revenue generation but also provides seamless integration with popular social media platforms such as Facebook, Twitter, and Instagram. This integration allows you to leverage your existing social media presence, making it easier for your audience to support your content and share your campaigns with their networks. Studies have shown that social media plays a significant role in the success of crowdfunding campaigns, and our platform helps you capitalize on this potential.
Net30 Payments
Prompt payment is essential for maintaining healthy cash flow in any business. Unlike other platforms that may hold your funds for 60-90 days, Publir guarantees Net30 payments, ensuring you receive your hard-earned revenue promptly every month. This commitment to swift payments helps you better plan your business expenses and stay financially secure.
Cap on Fees
While competitors often charge hefty fees for their services, Publir believes in a fair and transparent pricing structure. Our fee cap ensures you'll never have to worry about losing a significant portion of your revenue to platform fees. This approach aligns with the growing trend of publishers seeking cost-effective solutions for generating revenue.
Revenue Guarantees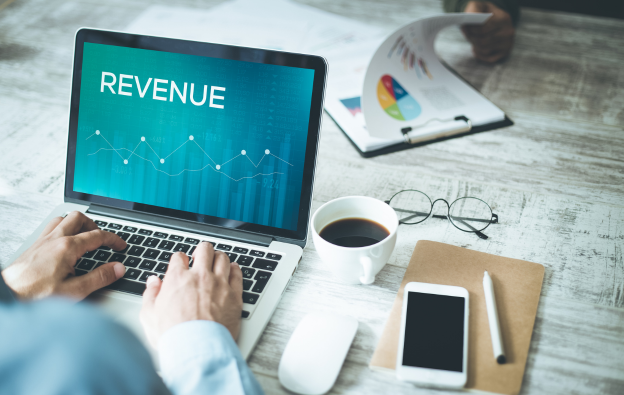 Publir stands by its product and is confident in its ability to generate results. That's why we offer revenue guarantees, giving you peace of mind that you'll see a return on your investment. This guarantee is supported by research highlighting the effectiveness of crowdfunding campaigns in generating revenue for businesses.
Customizable Solutions with Powerful Synergy
Publir's platform is highly adaptable and can be tailored to your specific requirements, ensuring seamless integration with your existing systems and processes. Our Crowdfunding tool works in perfect harmony with our Ad Optimization, Ad Block Recovery, and Subscription solutions, providing you with a comprehensive suite of tools to maximize your revenue potential.
By combining the power of these solutions, you can cater to various audience preferences and ensure an optimal user experience. For example, you can offer ad-free browsing experiences to subscribers while optimizing ad revenue for non-subscribers. Additionally, our Ad Block Recovery solution helps you recover revenue that might have been lost due to ad-blocker usage, further enhancing your monetization strategy.
This level of customization and synergy is crucial for publishers, as it allows them to deliver unique experiences that resonate with their audiences and adapt to the evolving digital landscape.
Expert Support and Data-Driven Insights
Publir's dedicated team of experts is always available to assist you in maximizing your revenue potential and ensuring a smooth user experience for your audience. Moreover, our advanced analytics provide valuable insights into your audience's behavior and preferences, empowering you to make data-driven decisions that drive growth.
Conclusion
In an unstable advertising and programmatic environment, Publir's Crowdfunding tool offers a reliable solution for publishers to diversify their revenue streams, raise RPMs, and seamlessly integrate with their social media accounts. With its customizable platform, expert support, and data-driven insights, Publir empowers publishers to thrive in an increasingly competitive market. To learn more about how our Crowdfunding tool can benefit your organization, please visit our website at www.publir.com/.