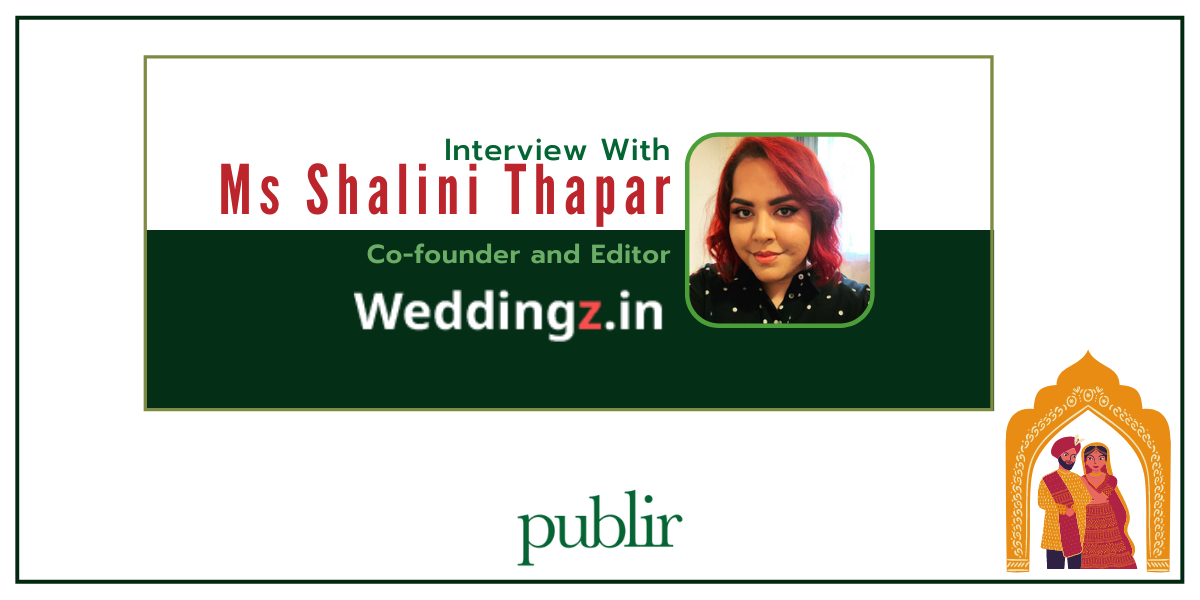 Publir interviewed Ms. Shalini Thapar, Co-founder, and Editor, Weddingz.in. Shalini has 15 years of experience in the field of Fashion and Blogging. She has played a vital role in building the Weddingz.in platform making it a PAN India brand. She shares with us her journey and her plans for the future. Read on!
How has your journey been into the world of Blogging?
I started blogging way back in 2008, and use to write in an online journal called Wattpad. With many entries published, I got an opportunity to write for Harpers Bazaar for the Wedding Niche. And that's how my journey into Wedding Blogging started.
What was the idea behind developing a platform like Weddingz.in?
While I initially started it as a blog, within a few months I realized how competitive this market was. Just having blogs with the best weddings gowns would not help me connect with my Target audience. So, after doing a thorough research and market survey, we developed a service-based platform. Today we have more than 500 vendors listed on our website.
How has Weddingz.in evolved since it is the launch?
We launched in 2014, with the idea to be the go-to blog for brides-to-be. But very soon, our area of focus changed to a broader audience. We wanted to be the go-to platform for all wedding needs/planning. Right from Mehndi artists, to caterers, and to honeymoon planning, we do it all on the platform now. And I am still looking at adding more verticals to my platform.
What are the primary revenue streams for the site? Could you give us an approximate % breakdown of these revenue streams?
Most of our revenue is from vendor listing, Google Ads, direct advertisements, and affiliate marketing.
What are some of the challenges you face with monetizing the site?
We have always looked at the big picture and never really had issues monetizing the site. From the very beginning, we have advertised ourselves to have a great kitty of clients and that has helped our revenue generation from Vendors go up and up. For Online monetization, our team works with Media Networks and has a decent collection. But yes, our primary revenue stream is our vendor listings.
How much time do you spend on monetization – working with ad partners, troubleshooting ad issues, etc – versus managing content and growing the site?
Well, I primarily focus on growing the reach of the blog by developing great content and finding suitable vendors for new categories. With regards to the rest, my team handles it for our platform.
What do you see your website accomplishing five to ten years from now?
We only want to grow and grow, and evolve has the pioneer platform for all wedding needs. Idea is to explore and add more categories to our platform so that we can capture the whole of the wedding industry, both online and offline.
Publir helps publishers such as yourself diversify their revenue streams? Do you see your company using a service like Publir in the future?
It is good to know that there is a platform like Publir, that can help websites like ours amplify our revenue streams. While I think there is definitely scope for us working together, I would however have our Marketing team connect and discuss this further with you all.
Any advice you would like to give wedding bloggers who are starting new?
Well, my advice to everyone who wants to be a content creator is to think and dream bigger. If you will restrict yourself to just blogging and have a few articles on your name and be happy, then this journey would be short-lived. Blogging irrespective of what niche you choose is extremely competitive, so it is very very important that you have your eyes wide open and pace up with the evolving industry right from day 1.
To read more interviews like this, head to our blog and explore.