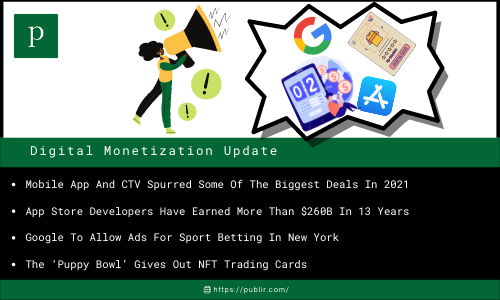 1. Mobile App And CTV Spurred Some Of The Biggest Deals In 2021 (AdExchanger)
In 2021, total deal-making activity increased by more than 82% year on year. The majority of media, marketing, and ad tech M&A falls into six categories: mobile apps, data and identity, commerce media, audio, the continued maturing of the programmatic ecosystem, and CTV. But it was mobile apps and CTV that sparked some of the major deals in 2021.
2. App Store Developers Have Earned More Than $260B In 13 Years (TheVerge)
According to an Apple press statement issued on Monday, App Store developers have earned more than $260 billion since the store's inception in 2008. Since Apple said in January that developers have earned more than $200 billion since the inception of the App Store, the new number released Monday suggests that developers made $60 billion in 2021.
3. Google To Allow Ads For Sport Betting In New York (MediaPost)
From January 8, 2022, New York State has enabled people to place sports bets using Google's search engine. Google Ads gambling policy was changed to accept ads for sports betting from certified and state-licensed firms in New York State. Advertisers that wish to promote online gambling material must apply for certification, which is now accessible.
4. The 'Puppy Bowl' Gives Out NFT Trading Cards (AdAge)
Animal Planet published the first in a series of non-fungible tokens (NFTs) trading cards ahead of their Super Bowl-themed "Puppy Bowl," which fans can view and mint (buy) on marketplace Chronicle. The initial drop includes 5,000 free "Puppy Bowl Pass" tokens, which give fans early access to forthcoming NFT drops that will range in price and rarity.
5. NFT Sales Hit $25B In 2021 But Growth Shows Signs Of Slowing (Pymnts)
Non-fungible token (NFT) sales have recently increased and are expected to reach $25 billion by 2021. This occurred as speculative crypto assets grew in popularity, albeit there were hints of a downturn towards the close of the year. The sales volume approaching $25 billion was a significant rise from $94.9 million in 2020.
6. Apple To Allow Third-Party Payment Options In South Korea (TechCrunch)
The Korea Communication Commission (KCC) said that Apple has filed its compliance plans to allow developers in South Korea to use third-party payment options at a lower service fee. KCC also stated that it will meet with Apple to iron out further issues, such as service fee structures and the precise date when the payment option will be available.
7. Judge Sides With Apple Throwing Claims Over App Store Ban (MediaPost)
A federal court has dismissed a case that Apple broke antitrust rules by removing the "Konverti" app from the App Store, which permits in-person meetings for users to convert modest sums of foreign money. The app developer's complaints, even if accurate, would not establish that Apple violated competition rules by banning the app.