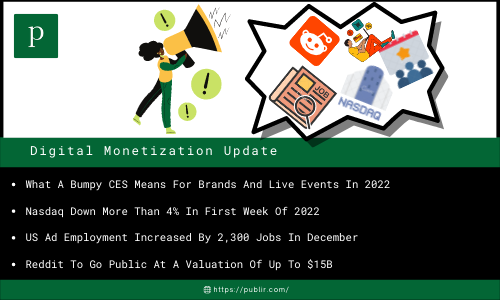 1. What A Bumpy CES Means For Brands And Live Events In 2022 (AdAge)
A rough CES became a caution sign for the live events circuit that everyone is not ready for in-person conferences to return. It does not mean that firms should forego appearances in 2022, but they must plan better. SXSW, an annual media and tech conference centered in Austin, announced that it will have an in-person event and a virtual component.
2. Nasdaq Down More Than 4% In First Week Of 2022 (Variety)
The Nasdaq finished Friday down more than 4% from where it began Monday and over 1% for the day, marking a terrible start to 2022 for major entertainment and tech sectors. The S&P 500, like the Nasdaq, is off to a rocky start to the new year, down 0.4% at Friday's close and -1.8% from Monday's open. The Dow ended the day flat, down 0.33% for the week.
3. US Ad Employment Increased By 2,300 Jobs In December (AdAge)
According to the US Bureau of Labor Statistics' monthly employment report, employment in advertising, public relations, and related services grew by 2,300 jobs in December. In terms of the overall economy, companies in the US added 199,000 jobs in December, the smallest monthly rise in a year, while the unemployment rate fell to a historic low of 3.9%.
4. Reddit To Go Public At A Valuation Of Up To $15B (Reuters)
Reddit has hired Wall Street banks Morgan Stanley and Goldman Sachs Group to handle its first public offering. Reddit filed for an IPO in December and is aiming for a valuation of more than $15 billion at the time of its IPO. In August, it was valued at $10 billion in a private funding round headed by Fidelity Management.
5. Victims Of $200M BitMart Crypto Hack Still Waiting For Refund (TheVerge)
BitMart, a cryptocurrency exchange, offered a complete refund to victims of the platform-wide $200 million theft, but some users have yet to get their money back. On December 4th, hackers stole a variety of tokens after using a stolen private key to get access to one of BitMart's hot wallets, known as a crypto wallet, that is linked to the internet.
6. Meta To Test New Meta Privacy Control Center Across Apps (TechCrunch)
Meta is experimenting with how it informs users about their privacy settings. The new Privacy Center is only available to select Facebook desktop users in the US, but it will be expanded to "more people and apps in the coming months." The new privacy center will categorize information into five categories: Security, Sharing, Collection, Use, and Ads.
7. Fast Food Chains Adopt Subscription Models (Axios)
Taco Bell has unveiled the Taco Lover's Pass, a $10-per-month membership for one taco every day. Subscriptions provide a consistent supply of revenue, loyalty, and data – the same elixir that powers streaming businesses like Netflix and fitness giants like Peloton. From 2012 to 2021, the subscription economy grew approximately sixfold.