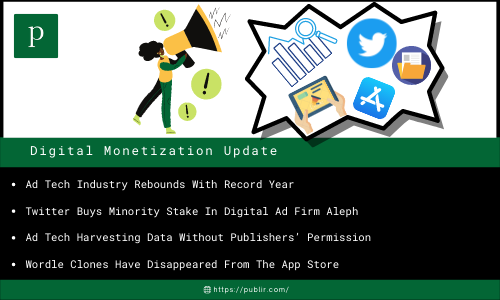 1. Ad Tech Industry Rebounds With Record Year (Axios)

According to recent research from LUMA Partners, a renowned media and marketing investment business, a record number of advertising and marketing technology companies went public last year. Deal volume among ad tech, marketing tech, and digital media businesses increased by 82% year-over-year.

2. Twitter Buys Minority Stake In Digital Ad Firm Aleph (MediaPost)

Twitter has purchased a minority position in digital ad startup Aleph Group. Twitter intends to use the funds to further its aim of empowering emerging nations' digital ecosystems to unlock and accelerate economic growth. Aleph intends to educate, train, and certify more than 50,000 digital advertising professionals in 90 countries across the world.

3. Ad Tech Harvesting Data Without Publishers' Permission (AdExchanger)

The audience's preferences and interests are revealed via content. Many contextual goods and by-products would not be possible without the availability of content. But some ad tech companies are not playing fairly and are increasingly taking and using the intellectual property and assets of publishers outside of current legal agreements.

4. Wordle Clones Have Disappeared From The App Store (TheVerge)

Several apps that cloned the popular web game Wordle have now vanished from the App Store, after exposing a flood of copycats so blatantly named "Wordle," featuring the same gameplay and UI, taking advantage that developer Josh Wardle did not create his own Apple app. While a few clones exist on the App Store, they do not use the Wordle brand.

5. Tumblr Adds Sensitive Content Filter To Its iOS App (TechCrunch)

Tumblr concealed search results on iOS for a range of tags for weeks in order to comply with App Store requirements. Tumblr is now attempting to address the problem by releasing a sensitive material toggle for its iOS app, which allows users to opt-in to seeing sensitive information. The option prevents users from seeing sensitive material by default.

6. Display Social Buys VR Firm To Help Creators Enter Metaverse (MediaPost)

Display Social, which pays social media creators, has acquired Thunder Studios, an entertainment production firm, and VR pioneer Infinite Realities, offering a one-stop shop for creators to join metaverse. It will give creative economy a toolkit including social media, gaming, virtual and remote production, NFT minting, and metaverse creation.

7. Twitter's Explore Tab To Hide Blocked And Muted Accounts (Engadget)

Twitter is ensuring that users are not exposed to content from muted or blocked accounts or any keywords they have muted. It is working on updating the platform to conceal certain terms and accounts. Events from muted and blocked accounts should no longer appear in the Explore tab or the What's Happening sidebar on the web, iOS, and Android apps.