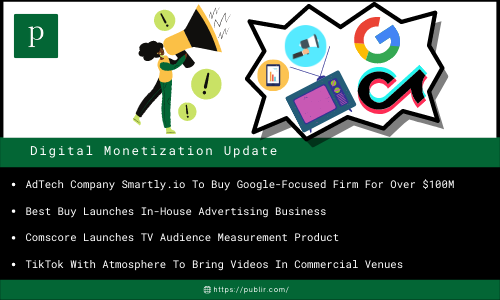 1. AdTech Company Smartly.io To Buy Google-Focused Firm For Over $100M (WSJ)
Smartly.io Solutions Oy has announced the acquisition of Ad-Lib.io, a firm that provides creative solutions for numerous Google platforms, for more than $100 million in order to expand its products outside social media. Helsinki based Smartly.io aims to assist marketers in delivering ads to specific audiences at the right time on the right platform.
2. Best Buy Launches In-House Advertising Business (MediaPost)
Best Buy announced Best Buy Ads, a foray into the media world. Other stores that have created in-house advertising firms include Albertsons, Walmart, Target, and others. The technology's goal is to use advertising to assist consumers in finding and discovering the most creative items.
3. Comscore Launches TV Audience Measurement Product (Variety)
Comscore plans to offer "Comscore Everywhere," a measurement platform aimed at counting unduplicated viewers across several media and devices. The firm is doing all as part of a large-scale endeavor by the media and advertising sectors to leverage new technologies to tabulate audiences in a more accurate and discrete manner.
4. TikTok With Atmosphere To Bring Videos In Commercial Venues (TechCrunch)
TikTok has partnered with Atmosphere, a firm that creates licensed and curated streaming video content for commercial venues like Taco Bell and Texas Roadhouse, or physicians' offices, gyms, and other places where people spend time. Atmosphere will create a new channel on its site exclusively to handpicked TikTok videos as part of the partnership.
5. Podcasters Letting Software Pick Their Ads Is Already Going Awry (TheVerge)
According to anonymous sources, The Verge has identified many cases of programmatic advertising gone awry. Ads are appearing in places they should not be, suggesting not so much the end of the endeavor of letting software pick their ads but a warning that if the pattern continues, early trust between podcast networks and internet companies may crumble.
6. Google Is Working To Integrate Android With Windows (Engadget)
Google will help people with non-Apple devices to set up, connect, and share across platforms. It is expanding its existing Fast Pair and Chromecast features to other products, and increasing data sharing across Android phones and laptops. Google said, "for the first time with Android, we're also focused on building for other platforms, like Windows."
7. Nielson's New Tool Predicts CTV Viewers Within Households (MediaPost)
Nielsen has introduced a technology that allows media buyers and sellers to forecast which members of a home are viewing certain shows on connected TV in real time. The Streaming Signals tool will assist marketers enhance ad targeting and CTV ad spend efficiency, as well as help media owners maximize revenue by more effectively packaging ad inventory.
8. Meta Sets Out Grounds For UK Appeal On Giphy (Reuters)
Meta has filed an appeal against a British competition watchdog's decision that it must sell Giphy, arguing that the transaction eliminated a potential rival in display advertising. Meta said last month that it has filed an appeal against the Competition and Markets Authority's (CMA) decision to ban the acquisition of Giphy in 2020.