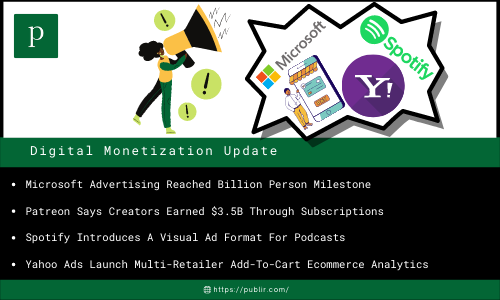 1. Microsoft Advertising Reached Billion Person Milestone (MediaPost)
Microsoft Advertising audience hit 1 billion users globally in March 2021 on the search engine Bing, as well as Outlook.com, AOL, Yahoo, Microsoft News/MSN.com, and other Microsoft sites and premium publisher partners. When a person utilizes various Microsoft products, and a device running Windows, Microsoft calls them "overlapping audiences."
2. Patreon Says Creators Earned $3.5B Through Subscriptions (TheInformation)
Patreon had a surge during the pandemic shutdowns. The nearly nine-year-old startup earned $245 million in capital in less than a year, thanks to an increase in engagement from online performers and fans. Patreon creators who use its subscription services have earned $3.5 billion throughout the duration of the startup's life.
3. Spotify Introduces A Visual Ad Format For Podcasts (TechCrunch)
Spotify introduces a new ad style for podcasters – "Call-to-Action" Cards or CTA cards. When the audio ad begins to play, the feature will display a visual ad in the app. Advertisers can customize the cards with their own images, text, and other clickable buttons that urge listeners to "shop now" or take action that the advertiser wants to encourage.
4. Yahoo Ads Launch Multi-Retailer Add-To-Cart Ecommerce Analytics (MediaPost)
Yahoo partnered with MikMak providing add-to-cart capabilities and eCommerce analytics for its native ads and display inventory campaigns. It allows advertisers to offer consumers multi-retailer checkout functionality from ads, using MikMak Insights to analyze campaign activity and its efficacy across major online retailers using the metrics.
5. Twitter Testing Quote Tweet With Video Reaction On iOS (9To5Mac)
For a select number of users, Twitter released a new feature in its iOS app where it is possible to retweet someone's post while adding your own video reply. The retweet with your reaction video will be available to all your followers. Twitter did not specify if the feature is being tested in a certain region or when it will be available to all users.
6. Signal's Cryptocurrency Feature Has Gone Worldwide (Wired)
Signal added a payments feature in beta for its UK customers in mid-November, testing out a connection with MobileCoin, a new privacy-focused cryptocurrency. The feature is available to all users, allowing them to send digital payments to millions of phones in a significantly more secure manner than a credit card transaction or a Bitcoin transfer.
7. LinkedIn To Start Beta Testing Clubhouse-Like Audio Events (TechCrunch)
LinkedIn is launching a new events platform that will allow users to post, host, and promote interactive, virtual live events. It will begin with an audio-only product, which will be released in beta this month, followed by a video version in the spring, with an initial focus on creators who use LinkedIn as organizers and hosts.
8. GameStop Surges On Plan To Enter NFT, Cryptocurrency Markets (Reuters)
GameStop Corp is forming a division to build a marketplace for nonfungible tokens (NFTs) and establish cryptocurrency partnerships, lifting the video game retailer's shares by 27% in extended trading. When the company's marketplace starts later this year, it will ask select game creators and publishers to advertise NFTs.