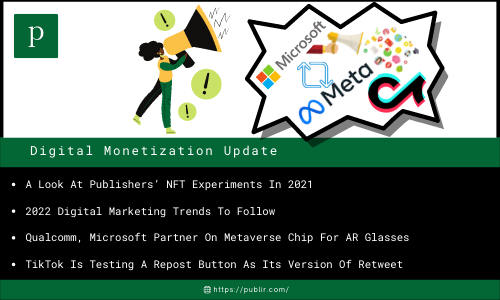 1. A Look At Publishers' NFT Experiments In 2021 (DigiDay)
Year-to-date, nearly 14.5 million NFTs have been sold, with nearly $13.8 billion spent to buy them. Given the amount of money spent, it is worth noting that the number of distinct wallets that purchased and sold NFTs grew significantly in 2021, reaching nearly 1.4 million by late December, up from around 87,000 on January 1.
2. 2022 Digital Marketing Trends To Follow (MediaPost)
As we enter 2022, marketers face a great deal of uncertainty as a result of altering technology and customer behavior. The shift in SEO, less dependence on follower counts and more focus on influence, and the growth of the corporate spokesperson are three industry trends that might make or destroy businesses, depending on how they choose to behave.
3. Qualcomm, Microsoft Partner On Metaverse Chip For AR Glasses (CNET)
At this year's CES 2022 conference, Qualcomm and Microsoft announced a partnership, pointing to new custom chips for future AR glasses. Microsoft's mixed reality software will be used with Qualcomm's phone-based AR platforms in future devices using the custom chips. Qualcomm claims that the partnership will also integrate software platforms.
4. TikTok Is Testing A Repost Button As Its Version Of Retweet (TechCrunch)
TikTok is testing its own version of Twitter's retweet, with the addition of a new "Repost" button that allows users to share videos on the network with their own followers. But unlike a Twitter retweet, the reposted video does not appear on your own profile, it is only sent to your friends' For You feeds. The button is also not available across TikTok.
5. CARU Begins Monitoring 'Child Directed' Ads In Digital Media (MediaPost)
The self-regulatory watchdog for the US ad industry revealed that it has begun monitoring "child-directed" advertising and associated content to ensure that it complies with new guidelines and that it will take action to enforce them in "popular media." The Children's Advertising Review Unit (CARU) first announced the revised guidelines in July.
6. Google Acquires Israeli Cybersecurity Startup Siemplify For $500M (Reuters)
Google's cloud division announced the acquisition of Israeli cybersecurity firm Siemplify, as the tech giant increases its security solutions in the face of escalating cyber threats. The companies did not reveal the deal's financial terms, but a person familiar with the case claimed Google paid around $500 million in cash for Siemplify.
7. FB Reinstates Ad Account Of Conservative Children's Book Publisher (FOX)
After telling the publisher that its account had been "permanently disabled," Meta, the corporation that owns Facebook, has restored the ad account of the conservative children's book publisher Heroes of Liberty. According to Facebook, Heroes of Liberty broke the company's guidelines against "Low Quality or Disruptive Content."