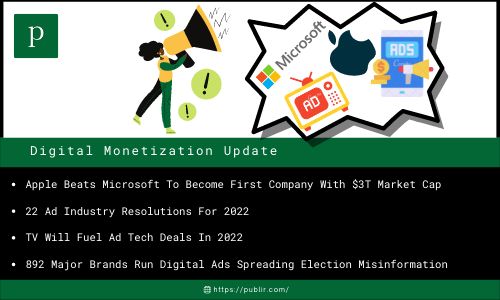 1. Apple Beats Microsoft To Become First Company With $3T Market Cap (CNBC)
During intraday trade on Monday, Apple temporarily surpassed the $3 trillion market worth threshold, before quickly falling below it. When Apple's stock price reached $182.86, it breached the barrier. On Monday, Apple climbed 2.5% to $182.01, narrowly missing completing the trading day above $3 trillion.
2. 22 Ad Industry Resolutions For 2022 (AdAge)
Ad Age questioned a few media, marketers, and agency executives about their priorities for 2022. David Cohen, CEO of the IAB said that the sector as a whole wants to "talk less and do more." Sarah Iooss, Twitch's head of sales for the Americas said, "It's time to embrace the open-mindedness of Gen Z."
3. TV Will Fuel Ad Tech Deals In 2022 (AdExchanger)
According to GroupM's most recent industry prediction, CTV ad revenues are predicted to double by 2026, implying that ad tech businesses with superior measurement skills may be seeking to make acquisitions this year, according to Business Insider. Growing inorganically might be one option for measurement firms to topple a particular titan.
4. 892 Major Brands Run Digital Ads Spreading Election Misinformation (MediaPost)
According to the recent NewsGuard data, 81% of the 113 US websites known to have promoted electoral misinformation after the 2020 presidential election are still doing so. Even worse, despite broad coverage of the difficulties, hundreds of large corporations are sponsoring these sites with digital ads, according to NewsGuard, a media watchdog.
5. Twitter Completes Its $1.05B Sale Of MoPub To AppLovin (TechCrunch)
MoPub, Twitter's mobile ad network, has been sold to AppLovin for $1.05 billion in cash. The deal was initially disclosed in October 2021, when Twitter stated its intention to increase its income by 2023 to $7.5 billion or more. The firm is now focusing its resources on performance-based ads, small businesses, and commerce, according to the company.
6. Samsung's New 2022 TVs Bring NVIDIA GeForce Now And More (TheVerge)
At CES 2022, Samsung unveiled a new range of smart TVs with features like radio-wave powered remote controls and NFT compatibility. They are also the first Samsung sets allowing players to play triple-A video games via the cloud. "Select" 2022 models would allow access to Nvidia's GeForce Now, Google Stadia, and the Utomik cloud gaming service.
7. FB Ad Targeting Ban Have Consequences For Medical Recruitment (MediaPost)
While previous Facebook policies have been criticized for allowing pharmaceutical companies to inappropriately target ads to users and patients, a recent Politico article describes the medical industry's growing concerns about the ad ban's impact on medical recruitment and drug development in general.
8. China Force New Rules For Firms Seeking Overseas Listings (Reuters)
China will implement new laws to increase monitoring of how its platform firms intend to list overseas, significantly tightening Beijing's grip on the country's enormous technology industry. China's Cyberspace Administration will begin enforcing new restrictions forcing firms to undergo a security review before listing their stock overseas.