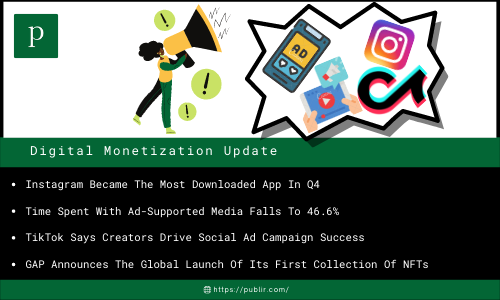 1. Instagram Became The Most Downloaded App In Q4 (TechCrunch)
As of Q4 of 2021, Instagram had recaptured the #1 rank in terms of total worldwide downloads. Instagram recently experienced its greatest quarter since 2014, with app installations increasing by 10% over Q3. The Meta-owned photo and video sharing app was also the first Meta product to top the downloads ranking since WhatsApp did so in the Q4 of 2019.
2. Time Spent With Ad-Supported Media Falls To 46.6% (MediaPost)
Ad-supported media's percentage of overall consumer time spent with media plummeted to its lowest point ever in 2021, and is expected to continue declining in the coming years, even as advertiser expenditure rises. According to a new report, ad-supported media's share of consumer time will fall to 46.6% in the US in 2021, and 54.6% globally.
3. TikTok Says Creators Drive Social Ad Campaign Success (MediaPost)
Influencer marketing's global market worth has more than doubled since 2019 to an estimated $13.8 billion. TikTok analyzed over 2,800 brand campaigns and discovered that ads made in collaboration with in-app artists received 91% more six-second views than non-creator ads.
4. GAP Announces The Global Launch Of Its First Collection Of NFTs (AdAge)
Gap has joined the market for nonfungible tokens (NFTs). The brand is launching a gamified digital experience that honors the NFT sector's creatives. Gap has announced a collaboration with Brandon Sines, the artist who created Frank Ape. Gap debuted their first NFT collection as a result of the collaboration.
5. Buy Nothing Group On Facebook Wants A Platform Of Its Own (TheVerge)
The Buy Nothing Project is a rare example of digital community-building on Facebook. It began in 2013 and expanded organically, mostly through closed Facebook groups, until it became popular during the pandemic, with now over 5 million members. The project released its own mobile app in November and is now debating whether or not to leave Facebook.
6. Twitch To Launch Improved Reporting And Appeals Process In 2022 (Engadget)
Twitch has released a retrospective of its 2021 safety efforts, including a look ahead to how it expects to address the problem in 2022, following a year in which it struggled to protect its users from abuse and harassment. It plans to upgrade its Suspicious User Detection tool that automatically flags those it suspects of being serial ban dodgers.
7. Nigeria Lifts Its Ban On Twitter After Seven Months (Reuters)
Nigeria will lift its ban on Twitter after the social media network agreed to create a local office, among other agreements with authorities in the West African country. Nigeria's government has removed its Twitter ban, seven months after the country's more than 200 million citizens were barred from using the social media platform.