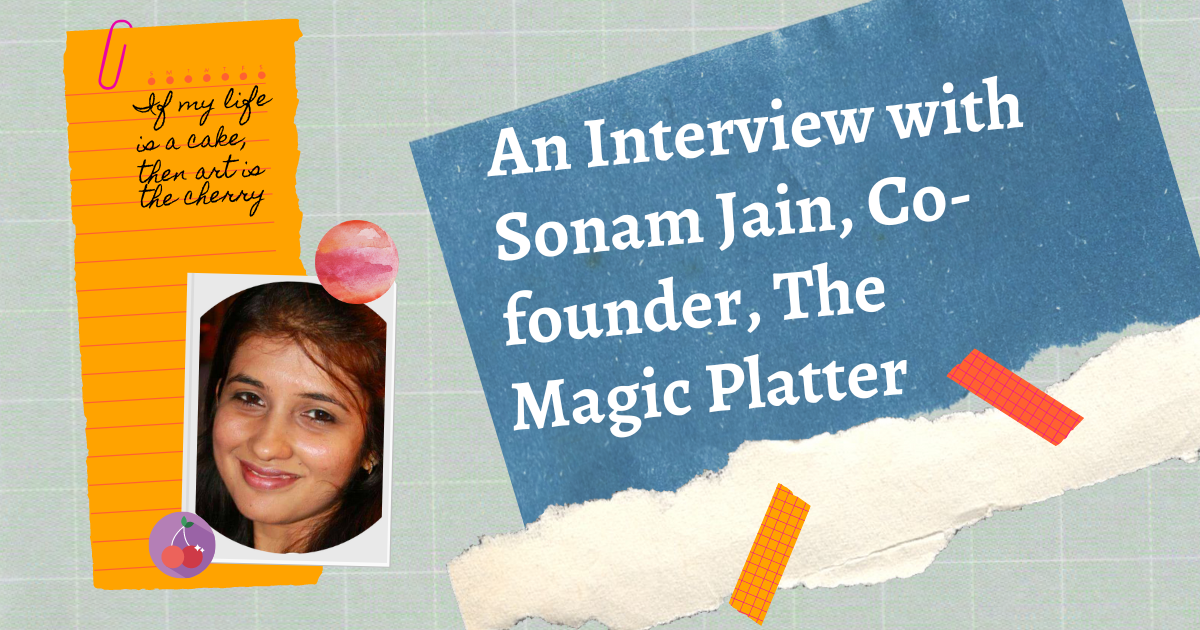 Here is a glimpse of our conversation with Ms. Sonam Jain, who is a renowned food artist, and has a great following online. She talks to us about her journey and how her work has influenced the food and art community online. Go ahead and read the conversation!
1. Can you tell us a little bit about yourself and your Blog?
I am Sonam Jain, a food artist running a blog named "The Magic Platter". My journey in blogging started after I took a sabbatical from the corporate world to enjoy motherhood. My blog focuses on creating whimsical, colorful & healthy platters for kids in form of visual stories that entice young minds to explore & love home-cooked meals.
2. What did you do before Blogging? What inspired you to start blogging?
I was a marketing post-grad, working for MNC's in BTL Marketing. My last stint was Radio City 91.1 FM before I started blogging full time. Initially, I just posted my food recipes on social media platforms. When I got positive responses, I knew people loved what I did, so I took blogging seriously.
3. As a blogger, what are the challenges you face? How did you overcome it?
There are three challenges I am facing:

1. Getting people to understand there is a segment called Food art and it is a different entity in itself. Don't generalize it as a food blog.

2. Marketing Myself, as there are a plethora of bloggers and they know the tricks and trade of business

3. Being Consistent, as I am a mom and time flies just running around him
To overcome these, I am trying to follow a systematic method of showcasing my content from time to time, seeking help from approaching bloggers in case I have my doubts & moreover enjoying the journey with fellow moms.
4. What would you consider to be your biggest achievement in your journey so far as a Blogger?
it's been not even 6 months and my blog was nominated by IFBA ( Indian Food Blogger's Association 2021) for their Insta Awards under Food Styling Category.
Also, I have been featured with one of the largest mom communities in India – The First Moms Club. They were the first community to bring my talent to other moms.
5. Have you worked/collaborated with brands? If yes, name a few brands you worked with
Yes, I have collaborated with a few brands like Popular Essentials & Mimmo Organics Past Brand.
6. What is your primary revenue stream on your blog?
Currently, I earn through my blog via Sponsored Posts, and with Brand Partnerships.
7. Top 3 Blogging tools that you would recommend to your readers?
Choose the right blogging platform – I prefer WordPress, Add Yoast SEO plugin, Beautify your pictures with Canva App.
9. Publir helps publishers such as yourself diversify their revenue streams? Do you see yourself using a service like Publir in the future?
Yes, definitely! While I have the expertise in creating good content, it will be of great help if I could have multiple ways to monetize it.
While it was great connecting with Ms. Jain, we wish her the best for all her future endeavors! To read more interviews like this, head to our blog and explore. Go on!