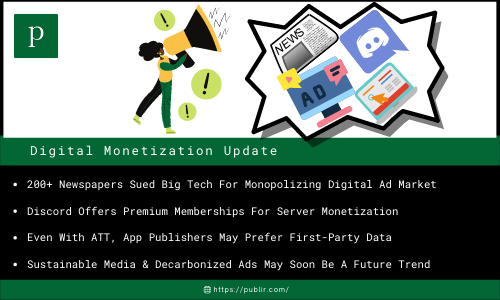 1. 200+ Newspapers Sued Big Tech For Monopolizing Digital Ad Market (Axios)
What began as a small-town attempt to stand up to Big Tech has grown into a national campaign with more than 200 newspapers from dozens of states. Since last year, newspapers around the country have been quietly filing antitrust cases against Google and Facebook, arguing that they monopolized the digital ad market, diverting cash from local news.
2. Discord Offers Premium Memberships For Server Monetization (TheVerge)
Discord is testing a new Premium Memberships feature allowing server creators to monetize their services. An initial trial with approximately ten creators will go online, paving the path for Discord's 150 million monthly active users to pay to access a variety of channels or servers and support creators.
3. Even With ATT, App Publishers May Prefer First-Party Data (AdExchanger)
Apple's App Tracking Transparency (ATT) framework made 70% of users allow cross-app monitoring. But, as of September 2021, just 21% users globally had signed up for ATT. Advertisers and publishers will have no option but to adjust to these changes, since Google is planning to enforce similar privacy changes to Android Advertising ID soon.
4. Sustainable Media & Decarbonized Ads May Soon Be A Future Trend (MediaPost)
With just 14% of consumers taking an action related to a brand due to the sustainability of the media they use and/or the carbon impact of their advertising, a new report from Dentsu International and Microsoft Advertising suggests that "sustainable media" will soon become a vital factor for consumers, brands, governments, and the ad industry.
5. 300 Free Channels Come To Google TV With Pluto TV (TheVerge)
Pluto TV will soon be supported under the live TV page on Google TV, allowing users to effortlessly access over 300 free channels from the platform's main live TV hub. Pluto TV has become the fourth streaming service to be added to the Google TV menu. Google TV formerly supported YouTube TV, Philo, and Sling, which all need paid subscriptions.
6. Twitter Tests New Process For Reporting Harmful Content (TechCrunch)
Twitter used to depend on user reporting to flag the policy-violating posts. Its new system would offer the firm with a more complete view of platform behavior rather than just a tool to analyze certain instances in isolation. Presently, the new method is tested with a limited set of US users, and will roll out to a larger audience starting in 2022.
7. Facebook Cuts App Store Fees With New 'Stars Store' (TechCrunch)
Meta has launched a new website where fans can buy "Stars," virtual items that allow followers to show support for their favorite creators. Stars are generally acquired through in-app purchases on iOS and Android. Users will now be sent to a new homepage where they may purchase Stars to avoid having to pay Apple and Google the 30% charge.