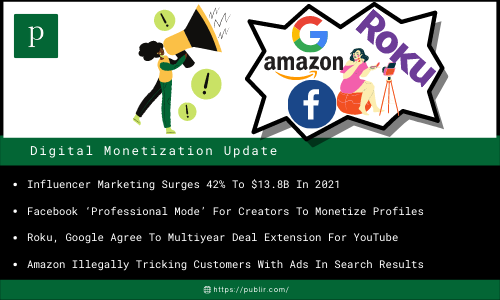 1. Influencer Marketing Surges 42% To $13.8B In 2021 (MediaPost)
According to a recent year-end analysis provided by Collabstr, influencer marketing expenditure climbed 42% to $13.8 billion in 2021 from $9.7 billion in 2020. It is expected to reach $15 billion by the end of 2022. The research by Collabstr, examines data from over 5,000 marketers and 27,000 influencers.
2. Facebook 'Professional Mode' For Creators To Monetize Profiles (Engadget)
Facebook has announced a new professional mode for profiles, allowing qualified creators to earn money without having to create a separate Page. The Reels Play bonus program, which allows creators to earn up to $35,000 per month depending on views of qualified reels, is the most notable feature of professional mode profiles.
3. Roku, Google Agree To Multiyear Deal Extension For YouTube (Axios)
Roku and Google have agreed to a multi-year agreement for the distribution of the YouTube and YouTube TV apps on Roku. Roku's deal with Google was slated to end this month. Without the deal, YouTube would have been withdrawn from Roku's channel, putting it at a significant competitive disadvantage, particularly during the holiday season.
4. Amazon Illegally Tricking Customers With Ads In Search Results (AdAge)
According to a coalition of unions, Amazon is misleading customers by failing to properly distinguish between sponsored adverts and organic search results on its online marketplace. The unions accuse Amazon of breaking rules barring unfair and misleading acts in a lawsuit filed with the Federal Trade Commission on Wednesday.
5. Instagram To Bring Back Chronological Feed Next Year (Engadget)
Instagram plans to bring back "a version" of its chronological feed next year, after more than five years. Launching a chronological feed option would be a significant turnaround for the picture sharing app, which has fiercely maintained its algorithmic feed despite user concerns and conspiracy theories about how their postings are prioritized.
6. Amazon To Shut Down Alexa.com In 2022 (BleepingComputer)
On Wednesday, Amazon revealed intentions to discontinue its worldwide website ranking system and competition monitoring tool "Alexa.com," which has been in operation for 25 years. Amazon has said that the Alexa.com platform would be phased off in May 2022, and that no fresh monthly statistics will be given in the future.
7. Kickstarter Will Move Its Crowdfunding Platform To Blockchain (TechCrunch)
Kickstarter, the popular crowdfunding platform, has announced intentions to develop an open-source protocol "that will essentially create a decentralized version of Kickstarter's core functionality." The objective, according to the business, is for the protocol to be adopted by a variety of sites, including, eventually, Kickstarter.com.
8. Axios Has Been Profitable For Three Years, Will Reach $86M Soon (DigiDay)
This year, Axios expects to generate $86 million in revenue, matching the company's 40% year-over-year increase from the previous year — all while remaining profitable for the third year in a row. Axios aims to generate 50% of its revenue from advertising, with the remaining 50% coming from long-term subscription services.