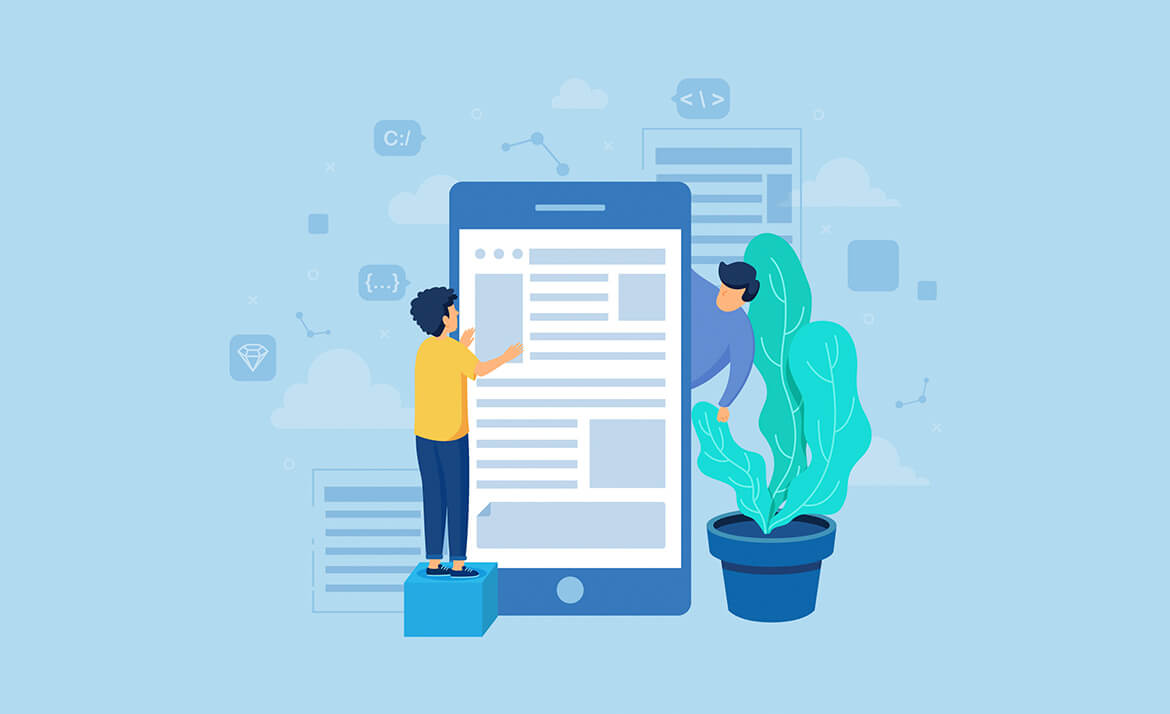 According to this data, there were around 269 million mobile internet users in the US, a massive 90% of all active internet users across the country. From that number, around 240 million used social media, from which 233 million accessed their social media accounts from their smartphones.

This is why, when formulating a content strategy, you have to think 'mobile-first. If you want to have a competitive edge, you have to ensure your content is mobile-friendly. If not, you'll be left behind because frankly smartphones dominate the times we are living in. Mobile users consume content like never before. An Internet Trend Study in 2018 established that the average time a consumer spends on digital media is around 3.3 hours per day. The same year, mobile traffic jumped from a 50% share of all internet traffic. There has always been a gradual shift towards mobile engagement, a wake-up call for content marketers who wish to be competitive.
Why Do You Need A Mobile-First Strategy?
In 2015, Google published its mobile-centric algorithmic update, for better rankings for mobile-friendly pages. They wanted to provide better results to smartphone users. Another update the next year aimed to boost rankings for mobile-friendly sites. March 2018 saw the publishing of Google's Mobile-First Index, which meant that Google would begin to use the mobile version of a page's content for indexing, ranking it so that it is more relevant for smartphone users. In July that same year, Google came up with a Mobile Speed Update, making page speed an important aspect in mobile search results. Through all these updates, content that has been optimized well gets a boost in terms of search engine rankings. You can never underestimate the significance of publishing mobile-friendly content because today everyone is using a phone for entertainment, shopping, information, and social interactions.
Mobile-Friendly Content is Indispensable for SEO
Google, Yahoo, FB, and Twitter have all gone mobile-first. These are areas people frequent online, so if your content isn't designed for mobile, your SEO rankings will suffer. Google has a 'mobile friendly' label on sites that come up when you search from a smartphone, duly informing users which site has been optimized for small screens. There are some specific criteria that can help you redesign your content with a mobile-first mentality in mind. Ensure your text is legible without zoom, your content is screen-friendly, links are spread out, and there's no laggy software that makes smartphones slow and users frustrated.
Mobile-Friendly Content Provides a Better UX
Content needs to be readable, shareable, actionable, and fast. This requires more than just 'downsizing' everything for a smaller screen. Mobile content needs to be adaptive, so users can get what they want immediately without unnecessary navigation.
Mobile-Friendly Content Needs To Be Everywhere
Whether it's seeking news or making purchases, using social media, or just casual browsing, mobile-friendly content needs to be wherever there are active internet users.
How Do You Ensure a Mobile-First Content Strategy?
Make Your Website Responsive
A responsive website's elements adjust according to the device that the person uses, providing a rewarding viewing experience. For WordPress sites, installing a desirable theme can be a quick fix.
Site Speed Optimisation
More than half of all mobile website visits are terminated if a site takes more than 3 seconds to load. According to Google, for every one-second delay, a site's conversion rate falls by around 12%. Page speed is one of the important factors that determine the ranks of mobile searches. Ensure your pages are optimized for speed. Use Google's Mobile Speed Test for finding issues.
Implementing Accelerated Mobile Pages (AMP)
AMP aims to boost user experience by ensuring that sites load quickly. Optimizing for AMP ensures better rankings. An open-source project in partnership with Google, the latter's guidelines are a good reference point to check if your AMP pages are valid. WordPress users need to install the WordPress plugin.
A Sitemap
Sitemaps are easy to create and ensure that Google's web crawlers go through your page properly. WordPress Plugins and the Yoast SEO tool can help you. You could also download the XML sitemap in case you wish to make one for free.
Title and Description Optimisation
Google's SERP always takes into account meta descriptions and titles, and this is very important for boosting Click-Through Rates. Mobile users might not be able to visualize the description owing to smaller screen sizes, which makes it imperative to insert keywords at the beginning of titles and descriptions.
Using Rich Markups
A closer inspection of Google's SERP will reveal rich snippets, appearing in the form of product ratings, company information, and more. While they may not directly affect search rankings, they may affect your site's bounce rates and click-through rate. Google uses structured data mark-up or the rich mark-up to pull information from mark-ups.
Relevant and Engaging Content
Content is king. There are no two ways about it. Where you put that content matters more, however. According to studies, mobile users focus most on the top left corner or top half of the screen and scroll more when compared to desktop users. Put the most interesting, engaging content at the start right above the fold.
Short, Captivating Headlines
Headlines should be intriguing, explaining how users might benefit from further reading. Short, snappy, and scan-=able headlines are attention-seeking and will draw users. Keep a special eye out for font size to ensure this does not get lost below the fold.
Personalize User Experience
When users access sites via mobile, give them a chance to personalize the content they wish to see, just the way it happens on laptops. Technology like 'Maxymism' can help, that operates alongside mobile devices to track what content is accessed, at what time.
Conduct an SEO Audit
Simply redesigning the site won't do. You could carry out a comprehensive SEO audit, using Google's mobile-friendly test tool. The analysis report it throws up will give you an idea of what tweaks are required. Content needs to be structured correctly. Use image compressors, because with screens becoming smaller, users should have fewer tasks to perform.
Wrapping Up
In conclusion, it is imperative to have your site optimized for mobile. Ensure that this is carried out on your site, on your social media channels, or even in the emails that you send to your customers. Make regular announcements on social media for new products, giveaways or sales. Make it easy for your users to scan the content you offer quickly, engaging with them as they do. Content today has to meet user needs across a multitude of devices. Analytics can help you find out which device your target audience favors, giving you an idea of how to optimize your content best. Google is only focusing more and more on mobile content, with mobile viewing growing. Don't forget to optimize mobile content as that could ultimately determine your brand's visibility and online credibility.
When it comes to mobile content optimization, you have to optimize your ads too. Read our blog on ad viewability and how that affects user experience to ensure the smoothest UX for your site visitors, maximizing your revenue.