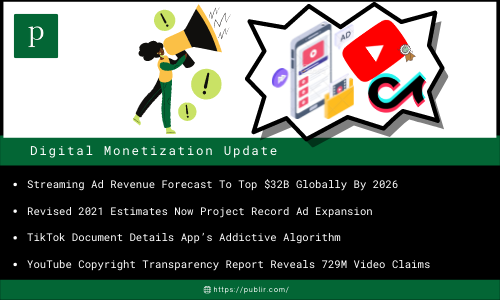 1. Streaming Ad Revenue Forecast To Top $32B Globally By 2026 (TheWrap)
According to GroupM, traditional ad revenue will only rise by 5% over the next five years. As Hollywood continues to grow its foreign footprint amid the intensifying streaming battles, global ad revenue from streaming services will nearly double by 2026. Ad revenue from streaming will nearly double to $32.5 billion by 2026, from $16.5 billion in 2021.
2. Revised 2021 Estimates Now Project Record Ad Expansion (MediaPost)
The latest forecasts from three of Madison Avenue's major forecasting groups raise the ad-growth consensus for the US by more than three percentage points to +19.8%, and for global ad spending by four percentage points to +17.1% in 2021. The expected record ad expansion in 2021 for the US and worldwide are currently -2.0% and -3.8%, respectively.
3. TikTok Document Details App's Addictive Algorithm (NYT)
A TikTok document offers new details of how the world's most successful video app has built such an entertaining – or addictive – product. The document, "TikTok Algo 101," was created by its Beijing technical team. Hilary McQuaide, a company spokesperson, verified its authenticity claiming it shows how the algorithm works to nontechnical employees.
4. YouTube Copyright Transparency Report Reveals 729M Video Claims (TheVerge)
Between January and June 2021, nearly 2.2 million YouTube videos were subjected to copyright claims that were later invalidated. YouTube's Copyright Transparency Report is the first of its kind, and it will be updated biannually. The claims account for less than 1% of the more than 729 million total copyright claims filed in the first half of 2021.
5. BuzzFeed Stock Falls 11% In Its Public Debut (Variety)
BuzzFeed's stock fell 11% on its first day of trading as a public business after combining with a special purpose acquisition company, a poor start for the unprofitable 15-year-old digital media giant. The stock began trading at $10.95 a share and surged to $14.77 (up more than 50%) before falling into negative territory in late morning trading.
6. Life360 With 33M Users Has Sold Users' Location Since 2016 (TheMarkUp)
Life360, a popular family safety software used by 33 million people globally, is a great way for parents to follow their children's movements using their cellphones. The app sells data on the movements of children and families to a dozen data brokers, who have sold data to nearly anybody who wants to buy it.
7. WhatsApp To Let Users Set All Chats To Disappear By Default (TheVerge)
WhatsApp users may now enable disappearing messages automatically for all one-on-one chats, ensuring that all future messages are instantly removed from the service. When the service first debuted in November of last year, one could only choose to have texts deleted after seven days. But now, one will be able to delete them after 24 hours or 90 days.
8. YouTube Accounts For 70% Of All Podcast Consumption (AdAge)
There are over 2 million active podcasts produced by a variety of creators, with a total of 48 million podcast episodes accessible. YouTube is the most popular place for consumers to listen to their favorite podcasts. YouTube accounts for 70% of all podcast consumption. Spotify and Apple come in second and third place, with 33% and 32%, respectively.