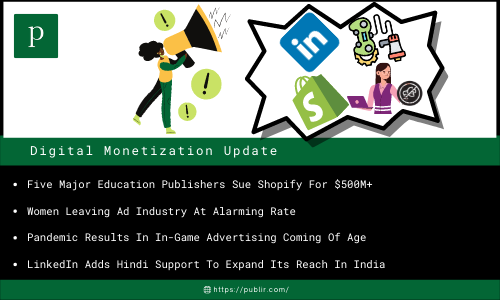 1. Five Major Education Publishers Sue Shopify For $500M+ (TheVerge)
Five major publishers have sued Shopify over pirated learning materials such as PDF eBooks and exam papers, alleging that it fails to remove listings and stores that infringe on their trademarks and copyrights. The case, which was filed in the US District Court for the Eastern Virginia, seeks statutory damages of more than $500 million.
2. Women Leaving Ad Industry At Alarming Rate (AdAge)
According to research issued by She Runs It, women now occupy less than half of the employment in the agency, media, and technology industries for the first time in four years. According to the group's fourth annual #Inclusive100 study, women make up 46.4% of workers in those industries, a decrease of over 10% from the previous year.
3. Pandemic Results In In-Game Advertising Coming Of Age (AdExchanger)
In 2021, the mobile gaming industry is expected to rise 4.4% to $90.7 billion. This is slightly slower than last year's pace, but marketers continue to see mobile gaming as a top-tier media channel. Programmatic in-game advertising grew as one of the most effective methods for marketers to capitalize on new category opportunities.
4. LinkedIn Adds Hindi Support To Expand Its Reach In India (TechCrunch)
LinkedIn will add Hindi on its social network as it is the language spoken/understood by more than half a billion people in India and over 600 million people globally. It is the first regional language to be supported by the social network. LinkedIn supports 25 languages, and the users can now access their feed, profile, and messages in Hindi as well.
5. BuzzFeed To Go Public Via A Merger With 890 5th Avenue Partners (NYT)
BuzzFeed shareholders decided to take the digital media pioneer public, which is renowned for its listicles and quizzes. BuzzFeed will combine with 890 5th Avenue Partners, a special purpose acquisition business. SPACs raise funds through an initial public offering and use the proceeds to acquire a private firm.
6. Facebook Makes 2FA Mandatory For High-Risk Accounts (TechCrunch)
Facebook said high-risk accounts likely to be targeted by hostile hackers would be required to use two-factor authentication (2FA) as part of an extension of Facebook Protect, the social media giant's security program – designed to protect the accounts of those who may be at risk, such as human rights activists, journalists, and government officials.
7. Amazon's Audible Begins $500M Media Review (AdAge)
According to those familiar with the pitch, Amazon's Audible is planning a worldwide advertising agency review, with a request going out to all big holding companies to seek interest in managing its $500 million in annual ad spending. Audible is Amazon's audiobook streaming service, which also offers podcasts and is a big advertiser.