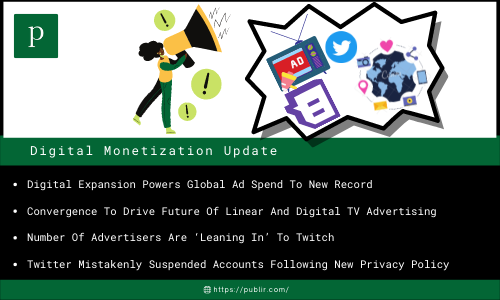 1. Digital Expansion Powers Global Ad Spend To New Record (MediaPost)
A new analysis from eMarketer depicts 2021's massive comeback over 2020, finding that overall spending by year's end will surpass 2019's pre-pandemic statistics by $120 million. The study attributes the record gain to an "unprecedented expansion in digital advertising," which is the greatest pace of increase since the tracking began in 2011.
2. Convergence To Drive Future Of Linear And Digital TV Advertising (AdExchanger)
The long culturally and technologically disparate ecosystems of digital and TV advertising are now merging to improve how marketers target and reach consumers. Advertisers struggled to reach consumers at scale as viewing patterns shifted away from traditional linear TV and toward internet-enabled CTV or other video-on-demand possibilities.
3. Number Of Advertisers Are 'Leaning In' To Twitch (AdAge)
According to Twitch, Just Chatting became the No. 1 non-gaming category in 2020, with broadcasts increasing 171% year over year. The Twitch mania appears to stay for advertisers. Last year, the network had over 1.2 million certified marketing partners, with many more brands in major areas including consumer packaged goods and financial services.
4. Twitter Mistakenly Suspended Accounts Following New Privacy Policy (WaPo)
Following a surge of "coordinated and malicious reports" targeting anti-extremism academics and journalists, Twitter said that it had wrongly suspended accounts under a new policy. The firm claimed it had fixed the errors and began an internal review to verify that its new rule was "used as intended."
5. Apple Sues Russia's Federal Antimonopoly Service (AppleInsider)
Apple is taking the Russian Federal Antimonopoly Service to court over the regulator's demand that Apple change its App Store payment methods. The case is based on a warning issued by FAS in August, instructing the iPhone manufacturer to let app developers educate customers about other payment methods other than Apple's in-app payments system.
6. Facebook Messenger To Test Built-In Bill Splitting Feature In US (TechCrunch)
Facebook Messenger has announced that it will begin testing a new "Split Payments" feature that will allow users to split the cost of bills and costs through the service. According to the firm, the new service offers a "free and fast" method to manage funds using Messenger. The new function will be available to customers in the US starting this week.
7. Verizon App Collecting Users Browsing History And More (TheVerge)
According to Input, the My Verizon app may be gathering information about its users' browser history, location, apps, and contacts in order to assist the corporation "understand your interests." The initiative, which Verizon appears to automatically enroll clients in, is dubbed Verizon Custom Experience and is hidden in the app's privacy settings.
8. TV As Bad Or Worse Than Social Media In Spreading Conspiracies (MediaPost)
A study released by Ipsos MORI indicates that as believed, social media platforms are the primary source for spreading conspiracy theories but television often is just as bad, or even worse. 41% of the respondents cited TV and social media as their source of a range of popular conspiracy theories.