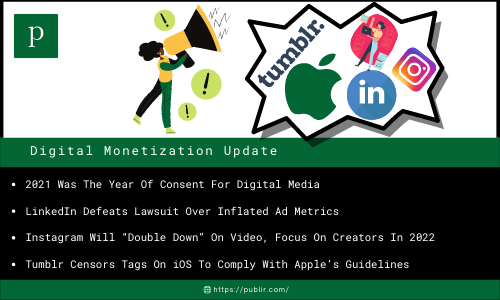 1. 2021 Was The Year Of Consent For Digital Media (AdExchanger)
Ad buyers, media sellers, and their ad tech partners are looking for opt-ins as third-party cookies become obsolete and other identifiers, like Apple's IDFA, are getting harder to come by. Firms are trying to explain tracking, combining it with user trust initiatives. By 2023, the opt-out rate for mobile app tracking is expected to drop from 85% to 60%.
2. LinkedIn Defeats Lawsuit Over Inflated Ad Metrics (MediaPost)
A federal court sided with LinkedIn and dismissed a case filed by two advertisers accusing the firm of inflating ad metrics. The decision was made in response to a case filed by software business TopDevz and hiring site Noirefy. In a class-action lawsuit, they claimed that LinkedIn's erroneous metrics allowed the firm to charge inflated ad pricing.
3. Instagram Will "Double Down" On Video, Focus On Creators In 2022 (Engadget)
Instagram CEO Adam Mosseri gave some insight into what is next for the site in a brief year-end video message, which included doubling down on video. He stated that Instagram will add more monetization options to help creators make a livelihood. In addition, Mosseri also said that in 2022, Instagram would focus on messaging and transparency.
4. Tumblr Censors Tags On iOS To Comply With Apple's Guidelines (TheVerge)
To comply with Apple's strict safety guidelines, an update to Tumblr's iOS app censors several tags. The platform is modifying iOS users' ability to access sensitive content, impacting their experience while searching for content, scrolling through the "Stuff for You" and "Following" parts of the dashboard, preventing access to flagged blogs.
5. Cyberattack Halted Presses, Ad Buys, And Subscription Changes (TheRecord)
Amedia, Norway's largest local news publisher, reported the shutdown of many of its major computer systems due to an alleged "serious" cyberattack. The attack also has an effect on the company's advertising and subscription systems, prohibiting advertisers from buying new advertisements and subscribers from ordering or cancelling subscriptions.
6. China's Crowdfunding Service Xianghubao Closes Amid Crackdown (Bloomberg)
Ant Group Co. will close its "mutual aid" health-care platform Xianghubao, following other internet giants like Meituan and Waterdrop Inc., amid China's crackdown on the once-thriving fintech industry. Xianghubao, which uses crowd fundraising to assist pay for medical bills for serious illnesses, will halt operations on January 28.
7. Italy To Use TIM-Led Project As Model For National Cloud Tender (Reuters)
In the national cloud tender it aims to publish in the early weeks of 2022, Italy will adopt a proposal provided by a group that includes Telecom Italia as a model. The infrastructure, called the National Strategic Hub, is part of the government's plan to speed up digital transformation while also ensuring national data security.