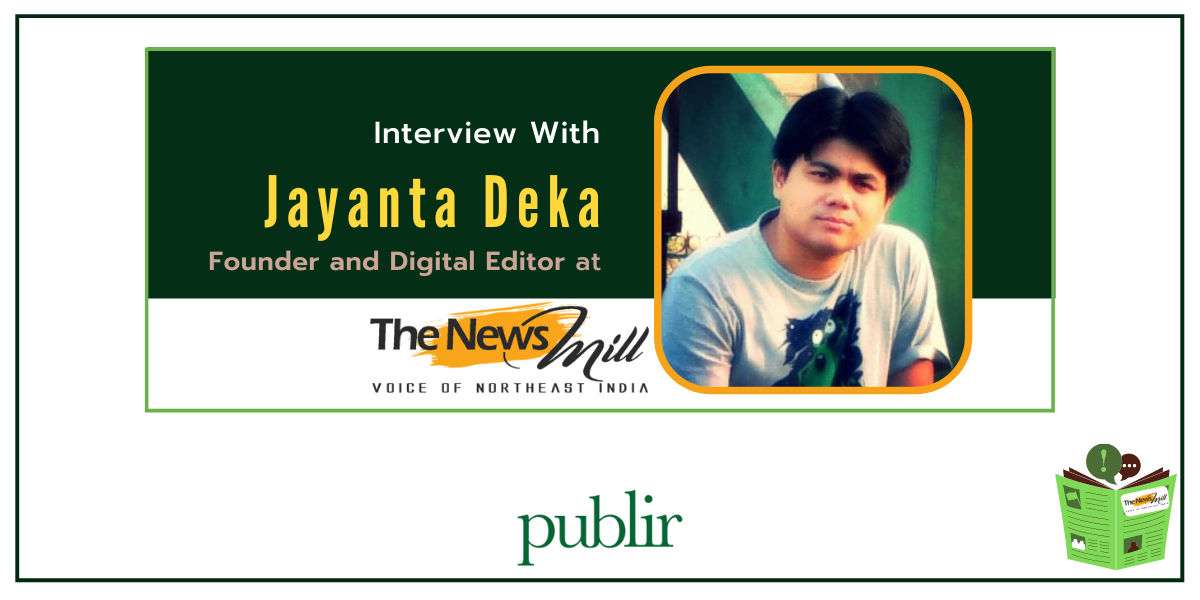 Jayanta Deka is a journalist based in Guwahati with over a decade of experience. He is the Digital Editor of The News Mill, as well as its founder, and one of its contributors. He is interested in new media, technology, startups, and politics. Web journalism (web development, social media marketing to content), mainstream reporting, editing, page design, public relations, and blogging (including freelance blogging) are among his skills.
Publir recently had a quick interview with Jayanta Deka to learn more about his work and The News Mill's future potential. We discussed his future monetization ideas as well as the most recent digital marketing tactics. We also talked about The News Mill and how the website came to be known as the voice of Northeast India.
As answered by Jayanta Deka –
Before we begin talking about TheNewsMill, can you share your journey into the world of News and Journalism?
I am a working journalist for over a decade now. Right after college (Bachelor in Media Science), I joined The Sentinel newspaper in Guwahati as a sub-editor. A short stint at the Sentinel and I went on to do my post-graduation in public relations (PR). Thereafter, I joined the Times of India in Lucknow as a copy editor. I worked closely with the 'Nation' & 'Global' desk during my first few months with the Times of India before I was moved to the front page desk of the editions. During the six years-time at TOI, besides being a desk hand, I used to cover business and human-interest stories – with a special focus on technology, e-commerce, and social media.
What gaps did you see in the News and Media Industry that led you to launch TheNewsMill?
When I envisioned TheNewsMill, there was a big vacuum of stories from the Northeast region – in the newspapers, on the internet, on TV, and everywhere. The Northeast region was underrepresented. Only a few political and conflict stories from the region could break the clutter and that too could only muster to get a single-column coverage. I and my team wanted to fill this gap and provide news and information from the region, through the digital platform, for the audience across the globe. Since our beginning in 2016, we have seen a number of digital-first media organizations evolving in the region, which is a big testimony to our belief and vision.
Could you tell us about how TheNewsMill has evolved since its launch?
When we launched in 2016, TheNewsMill was mainly focused on providing news and information from the Northeast region. With time, we created a niche for ourselves through our unique bouquet of offerings and are now among the known digital media organizations working in the region. Besides news, our opinion pieces are widely-read and have been a part of the discussion – thereby setting the agenda and facilitating a discussion on the same. Our presence on social media sites like Facebook, Instagram, and Twitter has been ever-growing. At present, we have nearly 4 lakh followers on Facebook while the number is around 30k on Instagram.
What are the primary revenue streams for the site? Could you give us an approximate % breakdown of these revenue streams?
Most of our revenue is from advertisements which include direct-sold as well as programmatic advertising.
What are some of the challenges you face with monetizing the site?
Chasing revenue is a two-way sword. While you cannot sustain without a proper revenue stream, the user experience may get a severe dent if the website goes overboard with advertisements. Finding a balance has been a challenge. Till now our primary focus has been on creating content that is loved by the readers. We hope that with good content, we will be able to increase our readership which will in turn result in better advertising performance – a flowchart we want to master.
How much time do you spend on monetization – working with ad partners, troubleshooting ad issues, etc – versus managing content and growing the site?
Monetization is a part of the core work, but creating/curating content is our primary focus area. It will be difficult to mention the exact "time spent on monetization", but you may say we are fully dedicated to providing the best user experience and hence we devote ample time to test, adjust, deploy and troubleshoot monetization. If you ask me to provide a percentage-wise breakup, probably we devote 80% of our time to managing content, 15-20% on monetization, and on 'growing the site'.
Do you think the Indian Government will enact digital privacy laws similar to the European Union's GDPR?
The Indian government has already moved in this direction.
What are some new revenue streams that you would like to see on TheNewsMill in the next 1 to 2 years?
The subscription model has been touted as the future of digital news media. We have not tried it as yet but would like to give it a try. For a subscription to work, you should provide value to the subscribers. Today you get to read news everywhere – so why would Miss X or Mr. Y subscribe to you? The day you figure this out, give it a try and evaluate the results!
What's next for TheNewsMill? Any new areas that you're working on?
Increasing our content bouquet has been one of our core focus areas for the last few years. We enjoy a good readership and we want to give the readers more diverse content. In 2022, we want to cater to this.
What do you see your website accomplishing five to ten years from now?
The vision has always been to be a trusted source of information. In years to come, we want to be that trusted voice, the go-to source. We are moving in the right direction… let us hope for the best.
Publir helps publishers such as yourself diversify their revenue streams? Do you see your company using a service like Publir in the future?
We haven't used the services of Publir till now but that does not mean we won't be using the services in near future. As said, we want to find out a balance between advertising and content/user experience and if Publir helps us optimize and diversify our revenue streams without compromising on what we have to offer to our readers, we would be glad to test the waters.
Head to our blog to read more such candid conversations!