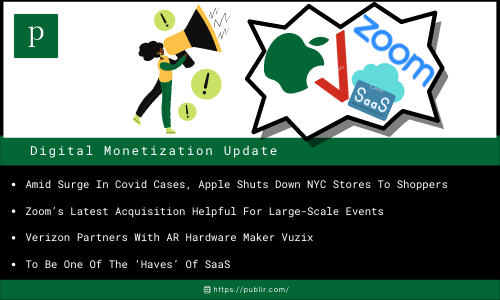 1. Amid Surge In Covid Cases, Apple Shuts Down NYC Stores To Shoppers (Axios)
An increase in COVID-19 incidents has led Apple to shut down in-store shopping in a number of New York City stores. The shutdown impacts 16 stores around the city. Apple has also temporarily closed stores in Washington DC, Los Angeles, Georgia, and Texas. Customers will still be able to order online and pick up their items at the stores.
2. Zoom's Latest Acquisition Helpful For Large-Scale Events (TheVerge)
Zoom has acquired Liminal's Zoom-based broadcast capabilities, as well as two of the company's co-founders, according to the videoconferencing platform. Liminal's add-ons, ZoomOSC and ZoomISO, are designed for creating professional virtual events, and as part of the acquisition, Zoom will most likely directly incorporate them into its software.
3. Verizon Partners With AR Hardware Maker Vuzix (Engadget)
Vuzix, an AR firm, has partnered with Verizon after remaining quiet for the past two years. They want to investigate methods to commercialize AR technology for use in sports and gaming scenarios, particularly those including the need for training. The agreement will integrate Vuzix's new Shield smart glasses with Verizon's 5G network's capabilities.
4. To Be One Of The 'Haves' Of SaaS (TechCrunch)
Capital flows in SaaS are becoming increasingly divided. In the world of B2B software, there are the "haves" (public firms with revenue growth of over 30%) and the "have nots". The trick is to figure out why certain firms are "haves". And figuring out what it is about firms like Zoom, Datadog, Monday.com, and Asana that makes their values so high.
5. Google Ads Yet To Resume Service In Gmail For All Desktop Users (MediaPost)
Last week, Google Ads stopped serving in Gmail to certain desktop users. The firm has not yet provided an update on when the service will be restored. According to the Google Advertising Status Dashboard, the ads in the impacted locations ceased serving last week. Advertisements were designed to fit and appear like incoming messages in the inbox.
6. 30K+ Churches Use Data From Tech Firm Gloo To Target New Members (WSJ)
Churches can use Gloo to show ads to groups of people they believe are most receptive to becoming members, just as retailers and political candidates send out online ads to people with specific characteristics—including demographics, browsing activity, purchasing behavior, and other factors that advertising platforms allow clients to choose.
7. Cybersecurity Company Snyk Planning 2022 Wall Street IPO (Bloomberg)
According to persons familiar with the subject, cybersecurity firm Snyk Ltd. is preparing for an initial public offering, which might take place as early as next year. The Boston-based startup is in talks with banks and hopes to go public as soon as mid-2022. Tiger Global, Coatue, and BlackRock are among Snyk's backers.