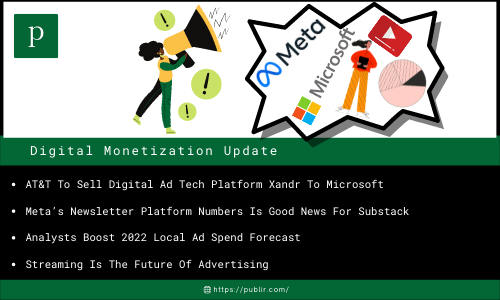 1. AT&T To Sell Digital Ad Tech Platform Xandr To Microsoft (BloombergQuint)
AT&T Inc. has agreed to sell its Xandr division to Microsoft Corp., after the carrier decided digital advertising was no longer a core business. Customers on Microsoft's sites, such as MSN, would get access to Xandr's marketplace for automated online advertising, the firms said without giving financial details. The deal is valued at about $1 billion.
2. Meta's Newsletter Platform Numbers Is Good News For Substack (TheVerge)
Substack said that its writers had reached a million paying customers. Meta regarding free subscribers said, "More than half of the creators on Bulletin have over 1,000 free email subscribers, with many having more than 5,000 or 10,000". Even if most Bulletin publishers have 10,000 subscribers, Substack has nothing to worry about.
3. Analysts Boost 2022 Local Ad Spend Forecast (MediaPost)
Analysts at BIA have raised their total US local ad growth forecast for 2022 to $173.3 billion, or 11.4%, citing faster-than-expected growth with a positive political ad outlook. Local ad revenue is expected to reach $161.5 billion. Total local TV ad spend is expected to rise 28.4% to $21.37 billion, up from 27% to $21 billion in the prior prediction.
4. Streaming Is The Future Of Advertising (AdAge)
Streaming has quickly taken the globe by storm. According to eMarketer, CTV ad spending will reach $14.4 billion by the end of 2021, up 59.9% from the previous year, and will reach $29.5 billion by 2024. Programmatic is used exclusively by some brands in their CTV ad strategy, as the biggest benefit being that it is readily scalable and quantifiable.
5. Redpoint Ventures To Launch Media Outlet 'Start' In 2022 (TheInformation)
Redpoint Ventures is hiring a creator for satirical TikTok videos as a new strategy for connecting with startup founders. The person will be a part of Redpoint's online media outlet, Start, launching early next year. Start is assembling a team of online content creators to launch a newsletter and podcast, and create YouTube videos and Instagram posts.
6. Taboola Teams With Microsoft To Launch Real-Time Service In 2022 (Axios)
Taboola is teaming with Microsoft for a real-time service that allows advertisers to bid on ad inventory across many places on the open web – content can be accessed from any web browser, without any signing in. The two firms have had a revenue-sharing agreement in the past that will continue with this deal. Their new contract runs through 2024.
7. NFT Gaming Project Hack Sees $150K Of Crypto Stolen (TheVerge)
Fractal is a start-up from Twitch co-founder Justin Kan that specializes in the buying and selling of NFTs that represent in-game assets. A link posted through the project's official Discord channel was discovered to be a crypto-stealing scam. The estimated worth of stolen cryptocurrency is roughly $150,000.
8. EU Clears Microsoft-Nuance Without Conditions (TechCrunch)
The European Union's competition regulator has approved Microsoft's $19.7 billion acquisition of transcription tech firm Nuance, which was disclosed earlier this year. The EU said it has found that there are no competition issues for the area if the deal goes forward, and that it has cleared it without conditions.