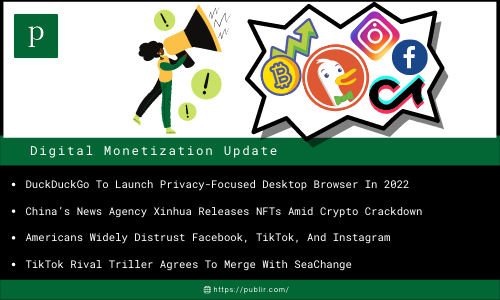 1. DuckDuckGo To Launch Privacy-Focused Desktop Browser In 2022 (MediaPost)
DuckDuckGo is developing a desktop browser with the same security and privacy capabilities as its mobile browser. Rather than Chromium, DuckDuckGo developers will build the desktop browsing app on operating system rendering engines, similar to mobile, allowing them to reduce redundant code gathered over time in main browsers.
2. China's News Agency Xinhua Releases NFTs Amid Crypto Crackdown (Bloomberg)
Even though Beijing has banned any crypto-related transactions, China's official Xinhua News Agency is intending to issue news collectibles based on technology used in non-fungible tokens. The collectibles, which are based on chosen news photography reports from this year, will be available for free on Friday through the agency's news app.
3. Americans Widely Distrust Facebook, TikTok, And Instagram (TheHill)
According to a Washington Post-Shcar School study, most Americans are wary of TikTok, Facebook, and Instagram with their personal information and data. 72% of those polled distrust Facebook. 60% of those polled distrust Instagram, and 53% distrust WhatsApp. 63% of Americans polled indicated they distrust TikTok with their personal information.
4. TikTok Rival Triller Agrees To Merge With SeaChange (AdAge)
Short video app Triller will go public via a reverse merger with video-tech startup SeaChange International. The merged entity is expected to be worth around $5 billion. The planned merger has been accepted by the boards of both firms, and it is scheduled to conclude in the first quarter of 2022, subject to regulatory and stockholder clearances.
5. Optimizely Integrates Its B2B Commerce Cloud & Content Cloud (MediaPost)
Optimizely, a digital experience platform, announced the integration of its B2B Commerce Cloud and Content Cloud capabilities, which it claims will help companies produce effective B2B content. The connection makes B2B data and capabilities available within the Content Cloud using the B2B Commerce Cloud as a headless commerce API.
6. India Bans 20 YouTube Channels, Two Websites Under New IT Rules (ETimes)
For the first time, India used the emergency powers under the newly notified intermediary rules and digital media ethics code under the IT Act to block 20 YouTube channels and two websites for allegedly running anti-India propaganda from Pakistan. The content was flagged by security agencies, and then an inquiry was launched by the I&B ministry.
7. Zoom Calls Can Now Be Taken From Amazon Television (TheVerge)
This Christmas season, Amazon is getting Zoom video calling software, allowing you to talk with family and friends. These TVs do not have a built-in camera. Customers would require a suitable USB webcam with 720p or 1080p resolution to make it work. For the time being, the Zoom app will use the TV microphone and speakers instead of the webcam mic.
8. SK Hynix Clears Hurdle For Takeover Of Intel's NAND Business (TechCrunch)
South Korean chipmaker, SK Hynix, said that the Chinese antitrust authorities have approved its $9 billion acquisition of Intel Corp's NAND and SSD (solid-state drive) business, completing the regulatory approval process in eight nations. The US chip giant and SK Hynix reached the acquisition deal last October.