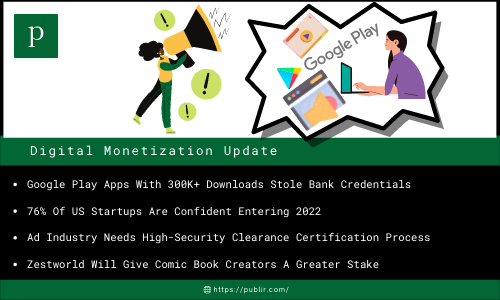 1. Google Play Apps With 300K+ Downloads Stole Bank Credentials (ArsTechnica)
Researchers found a batch of apps downloaded over 300,000 times from Google Play to be banking trojans that secretly stole user passwords and two-factor authentication codes, logged keystrokes, and took images. The apps, pretended to be QR scanners, PDF scanners, and cryptocurrency wallets, were part of four different Android malware families.
2. 76% Of US Startups Are Confident Entering 2022 (VentureBeat)
Research from Angel Investment Network finds that 18 months after the start of the pandemic, the startup ecosystem in the US and the UK has regained its confidence: about three-quarters of entrepreneurs are again optimistic about the coming year. The research surveyed startup opinions in the countries to examine their responses after the pandemic.
3. Ad Industry Needs High-Security Clearance Certification Process (MediaPost)
Amazon mishandled customer data for years, calling into question if the advertising business should develop a high-security data protocol and certification clearance for workers who work at corporations that handle massive amounts of consumer data. The certification clearance would decrease or eliminate some instances of data mishandling.
4. Zestworld Will Give Comic Book Creators A Greater Stake (NYT)
Zestworld will allow comic book writers and artists to submit fresh work and profit from it if it is transformed into collectibles or adapted for TV, movies, or other media. The creators will own stocks in the firm. Characters were traditionally owned and benefitted the publishers, not the creative team that created them, from the early days of comics.
5. ViacomCBS, NENT Group Partner For Pluto TV Launch In The Nordics (Variety)
ViacomCBS Networks International has partnered with NENT Group, Scandinavia's top streaming firm, to offer a new Pluto TV service in Sweden, Denmark, and Norway in 2022. NENT's independent AVOD service, Viafree, will be incorporated into Pluto TV as part of the cooperation. The NENT Group will be the platform's primary advertising sales partner.
6. Budweiser Launches First NFTs, Sold Out In Under An Hour (AdAge)
Budweiser became the latest company to enter the non-fungible token industry on Monday, generating 1,936 one-of-a-kind pieces of digital art in the shape of beer cans that sold for hundreds of dollars apiece. Bud's "Heritage Collection" sold out in less than an hour, earning the company $984,000.
7. Twitch Star Ludwig Is Moving His Stream To YouTube (TheVerge)
Ludwig Ahgren, known for his month-long subathon earlier this year, is leaving Twitch to solely stream on YouTube Gaming. Ludwig has 3.1 million followers on Twitter and over 27,000 subscribers on TwitchTracker. At the end of his subathon, he had smashed the all-time Twitch subscriber record, according to TwitchTracker, with 283,066 subscribers.
8. eBay Acquires Sneaker Con Authentication Business (TechCrunch)
Online marketplace eBay is expanding its sneaker business by acquiring Sneaker Con Digital's authentication firm, which validates the authenticity of high-value footwear. The company has offices in the US, the UK, Canada, Australia, and Germany, and it previously collaborated with eBay to evaluate the sneakers bought and sold on its marketplace.