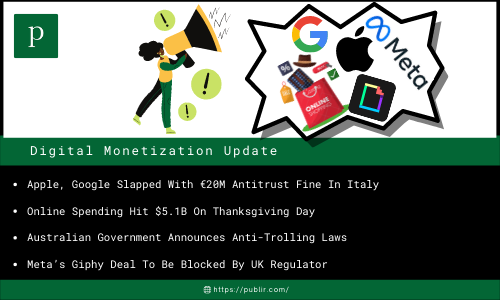 1. Apple, Google Slapped With €20M Antitrust Fine In Italy (TechCrunch)
Italy's competition and market regulator (AGCM) fined Apple and Google €10 million each for failing to offer clear enough information to its consumers about commercial uses of their data, in breach of the country's consumer law. The agency also accuses the two of using "aggressive" tactics to get consumers to accept commercial processing.
2. Online Spending Hit $5.1B On Thanksgiving Day (MediaPost)
Adobe reports consumers spent $5.1 billion on Thanksgiving, a significant increase over daily averages. Black Friday consumers are predicted to spend between $8.8 billion and $9.6 billion. Between November 1 and December 31, Adobe predicts that online sales will reach a new high of $207 billion, up 10% year over year.
3. Australian Government Announces Anti-Trolling Laws (TheVerge)
Australian Prime Minister Scott Morrison is proposing new defamation laws requiring websites to identify the identity of trolls or face defamation charges. The laws would make social media firms liable for defamatory remarks made against their users. Platforms may also need to set up a complaint system for the users if they feel they have been defamed.
4. Meta's Giphy Deal To Be Blocked By UK Regulator (Reuters)
In an escalation of the watchdog's assault on Big Tech, the United Kingdom's competition regulator is expected to block Facebook's acquisition of online GIF company Giphy in the coming days. The deal is to be rejected by the Competition and Markets Authority, marking the first time the agency has revoked a Big Tech acquisition.
5. Microsoft's GitHub Back Online After Two-Hour Outage (TheVerge)
GitHub went down for more than two hours, affecting thousands of developers who use its numerous services. Git operations, API queries, GitHub activities, packages, pages, and pull requests were all affected by the problem. GitHub has over 73 million developers that use the service for Git version control and hosting for software development.
6. Spotify Is Testing TikTok Like Vertical Video Feed (BGP)
Spotify has revealed that it is testing a new feature called Discover in its app, which presents users with a vertical feed of music videos that they can scroll through and like or skip as they like. Instagram, Snapchat, YouTube, and even Netflix have all imitated TikTok, and now Spotify is the next to join the list.
7. AMC & Sony To Hand Out NFTs To Spider-Man Advance Ticket Buyers (Engadget)
Stubs Premiere, A-List, and Investor Connect members who buy or reserve tickets for Spider-Man: No Way Home showings on December 16th will get 86,000 NFTs from AMC and Sony Pictures. As an experiment, AMC and Sony see how many people are anxious to buy a purely digital collectible.