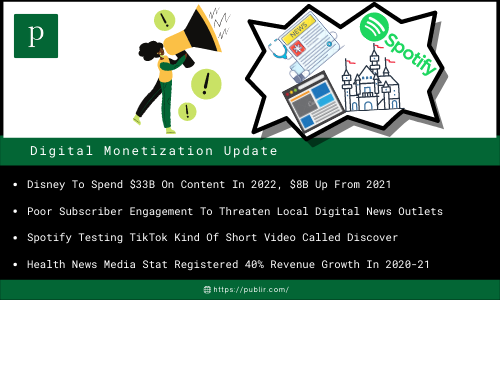 1. Disney To Spend $33B On Content In 2022, $8B Up From 2021 (TheWrap)
Disney revealed in its annual report filed with the SEC that it would spend around $33 billion, $8 billion up over its previous year's spending on content during its next fiscal year that began on October 1. The increased budget is largely due to Disney's increased investment in streaming and higher fees for sports rights, including its new NHL deal.
2. Poor Subscriber Engagement To Threaten Local Digital News Outlets (LNI)
According to the Medill Subscriber Engagement Index on 50 news outlets, 95% of paid digital subscribers are not visiting those websites regularly. While subscribers of small news outlets show up at an average of every third day, large outlets' subscribers are visiting every 5th day. Engagement is important for the survival of local news outlets.
3. Spotify Testing TikTok Kind Of Short Video Called Discover (TechCrunch)
While Instagram, Snapchat, YouTube, and Netflix have already introduced a TikTok kind of short-video form, it is the turn of Spotify to join the list. Spotify confirmed testing of a short form of a music video, which the users can scroll through with options to like or skip. This feature appears as a fourth tab in the navigation bar.
4. Health News Media Stat Registered 40% Revenue Growth In 2020-21 (Axios)
STAT, an American health media company that focuses on revenue streams, like subscriptions, advertising, and events registered a 40% growth in revenue from 2020 to 2021, exceeding projections. Its subscription revenue is up 24%, advertising revenue grew by 51% and events have fetched 79% revenue. Its authentic health news on COVID made it possible.
5. EU To Ban Ads Based On Religious Views And Sexual Orientation (WSJ)
The European Commission bill proposed on Thursday would restrict online tech platforms from targeting political ads at users based on race, political beliefs, and health status, without users' explicit consent. But it is lacking a ban on microtargeting, based on personal information that some activists had demanded.
6. PostcardMania To Assist Small Business Target Digital Mail Campaigns (MediaPost)
According to Joy Gendusa, the CEO of PostcardMania, a Direct mail Company in the US has formed a new digital-marketing division for small businesses. The new division serves as a boutique agency for small businesses to run digitally integrated direct-mail campaigns at affordable rates and scale to suit them.
7. Facebook Using Google And Apple As Attribution Data Sources (AdExchanger)
Facebook is now deferring attribution to Google and Apple as the attribution data sources for Facebook campaigns, a big change in direction. Facebook is using Google Play Install Referrer to pass Android install attribution data, available to all developers for free. Mobile publishers had to pay certified Facebook MMPs to get attribution data.
8. Bombora's Tool Offers New Audience Insights To Publishers (MediaPost)
Bombora, an Internet Marketing service in New York, is rolling out an analytics suite called Company Surge Insights for Publishers. It enables publishers to see and act on data from visualizations that require no specialized knowledge to understand. Forbes is already using it to help its B2B advertisers to get more value out of their audiences.